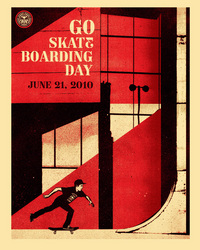 Rancho Santa Margarita, CA (PRWEB) June 15, 2010
The 8th annual Go Skateboarding Day (GSD), celebrated annually on June 21st is on Monday this year, so the skateboard industry, pro skaters, and skaters around the world are celebrating all weekend long.
GSD unites the global skateboard family to have fun, raise money and awareness for needy skateparks, promote local skate shops, and raise money for local charities and community needs. Founded by the International Association of Skateboard Companies (IASC) and with strong support from pro skaters, GSD is a holiday that encourages everyone to drop what they are doing, have fun, and go skateboarding!
GSD grows exponentially each year and this year is set to be the largest celebration of the sport yet. Stand-out events this year include:

West coast skaters can head over to the Venice Beach Skatepark between 1:00pm-4:00pm to ring in the holiday. Participants will enjoy cash for tricks, pro autograph signing, and giveaways. Attendees will also have the opportunity to skate with pro skaters Ryan Decenzo, Mark Appleyard, Chris Haslam, James Craig, Cooper Wilt, Louis Lopez, Joey Brezinski, and Jake Duncombe.
San Diego, CA offers two events on GSD. Sector 9 skaters and friends will be skating from Crown Point Park in San Diego to the South Mission Jetty at 10am on Monday; Wahoo's will be providing complimentary food for skaters. Tum Yeto is having an all day skate jam and BBQ on Monday at Embarcadero Marina Park.
New York City never fails to support GSD and this year is no exception. KR3W riders Chad Muska and Lizard King will be joining skaters in the NYC area at the L.E.S. Skatepark under the Manhattan Bridge on Monday at 3pm.
TAMPA, FL AND MONTREAL, CANADA
Pro skaters from the Emerica skate team are joining forces for the event Wild in the Streets. This skating takeover will begin on Saturday, June 20th at 2:00pm in Montreal. Team Emerica skaters Heath Kirchart, Figgy, and Brandon Westgate will be at Mont Royal's Tam-tams to kick off the event in style. The following day, June 21st at 11:30am, fellow teammates Ed Templeton and Andrew Reynolds will be at the Skatepark of Tampa (SPoT Skate Shop) to celebrate International GSD with the public. International Wild in the Streets events are also scheduled for Madrid and London.
TORONTO AND VANCOUVER, CANADA
Canadian skaters are set to observe the holiday with their event called All Aboard. Sponsored by Color Magazine and Element, All Aboard will take place simultaneously at noon in Toronto as well as Vancouver, skaters will 'ride the rails' together while hitting a multitude of skate spots. Each city's skate tour will end with a BBQ sponsored by Color magazine at 6pm. Catch the BBQ in Toronto at Ashbridge's Skate Plaza at Dubat Park, or in Vancouver at Strathcona Park.
Cities such as Chicago, Washington DC, Long Branch, NJ, San Luis Obispo, CA, and Waco, TX are also hosting GSD events in the US, and Afghanistan, United Arab Emirates, Israel, South Africa, Czech Republic, Poland, China, and Guatemala are just few countries that are holding events to support the GSD cause.
For events in your area and further details on these events check http://www.goskateboardingday.org. Don't get left behind …grab your board and go skate with millions around the world!
About Go Skateboarding Day
Go Skateboarding Day, held June 21st of every year, is the official holiday of skateboarding. Event locations are disclosed at local skate stores and on http://www.goskateboardingday.org, where you will also find info on how to create your own event, fundraiser or rally, among other things. While the holiday grows, the mission remains the same: Go skateboarding and have fun!
About IASC
The International Association of Skateboard Companies (IASC), a non-profit
organization that represents the united voice of the skateboard industry to the outside world, was founded in 1994. In 2003, IASC was restructured into the organization that founded Go Skateboarding Day on June 21, 2004. Driven by skate industry leaders, IASC strives to promote skateboarding and increase participation, save members money, and educate. For further information, please visit http://www.skateboardiasc.org.
###