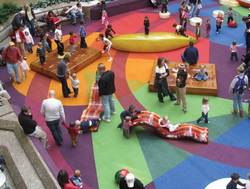 PLAYTIME's low profile climbers, slides and crawl tunnels provide a great place for children to exercise while they learn.
Englewood CO (PRWEB) June 16, 2010
PLAYTIME, http://www.experienceplaytime.com , the global leader in the soft play area industry, has been honored by "Colorado Companies to Watch," a prestigious annual awards program presented by the Edward Lowe Foundation and sponsored by M3 Insurance.
"More and more businesses are recognizing the unique contribution that our interactive, soft play areas make to their bottom line," says Mike Evans, PLAYTIME's Founder, President and CEO. "We've designed, fabricated and installed thousands of projects worldwide and are trusted by major brands and sponsors to bring their images to life."
Colorado Companies to Watch recognizes second-stage companies that are developing valuable products and services, creating quality jobs, enriching communities, and creating new industries.
Founded in 2001, PLAYTIME creates, manufactures and installs custom, soft-sculpted foam playgrounds for multiple markets. The company's products (think of the busy, colorful kids play areas found in retail centers like Colorado's Cherry Creek Shopping Center and FlatIron Crossing, quick serve restaurants, childcare centers and water parks) have become a proven differentiator for the businesses that install them.
PLAYTIME encourages safe and healthy play for kids with its soft play areas, and is aligned with the goals of first lady Michelle Obama's "Let's Move! Campaign" in the fight against childhood obesity. PLAYTIME's low profile climbers, slides and crawl tunnels provide a great place for children to exercise while they learn.
Safe and durable, PLAYTIME products are valued for the naturally antibacterial nature of their smooth, non-porous coatings and finishes. Germs are a danger that parents want to eliminate from their surroundings, especially in areas where their kids play.
"The glossy PLAYTIME urethanes on our playground products have been tested and proven to be antibacterial without antimicrobial additives," says Evans. "This is great news for businesses that want to offer a clean, healthy play environment for kids."
Over the past two years, the company has hired people to focus on new market segments. In September of 2009, PLAYTIME moved into a new, state-of-the-art manufacturing studio in Englewood, CO, that showcases its creative approach to play.
"In the bad economy, when most companies hunkered down, we reinvested and positioned ourselves for growth," says Evans.
In fact, PLAYTIME experienced more than 60% growth in its restaurant market in 2009, and is experiencing stronger traction across its other markets, particularly as the retail market regains strength in 2010.
"We know the future is bright," he says. "PLAYTIME is a company that is innovating every day. Every time we enter a new business, they experience a big 'Wow!' from their customers. We are the future of play."
PLAYTIME also supports nonprofit organizations, including Brent's Place at the Fitzsimmons Medical Center and its annual Kids Cure For Cancer event, Hope House of Colorado, and various Ronald McDonald Houses, donating free, naturally anti-bacterial play areas, which are so important to children with life-threatening illnesses.
# # #