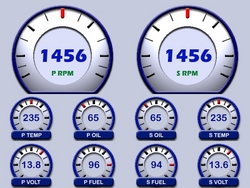 "You only have so much space so it is important to keep critical data at the forefront while allowing for multiple setup options." Up to 16 NMEA 2000 parameters can be shown on the display, and those 16 can be chosen from a field of up to 350 parameters"
Brookings, OR (PRWEB) June 16, 2010
Maximize on-board monitoring efficiency with a single hub that does it all. Chetco Digital Instruments is thrilled at the newest developments to their extensive lineup of marine instrumentation - an added port for NMEA 2000 inputs, and the ability to organize all of your marine equipment through a single hub.
"Gauge packages on marine engines have been pretty meager," says Joe Burke, CTO and co-founder of Chetco Digital, "so we wanted to fix that by boosting instrumentation capability and interfacing with old and new motors." Chetco offers a path for older and existing engines to convert information to a format compatible with current technology, and they are offering the ability to read from a myriad of equipment on a single display module. Compatible data from a variety of sources can be run through the Chetco Digital system and displayed on a SeaGauge™ touchscreen display, PC screen, or any other compatible NMEA 2000 display. Chetco Digital's gauges adapt to any type of marine engine and mechanical device, while allowing the user to customize the display and information to their unique needs.
Chetco's SeaGauge™ now includes an added port for a custom selection of NMEA 2000 inputs - data sources are bridged into a common output to use with a single color display. PGNs include rapid engine parameters such as RPM and trim (PGN 127488); dynamic engine parameters including engine temperatures, oil pressure, oil temperature, fuel pressure, alternator and fuel flow (PGN 127489); and transmission parameters such as pressure and temperatures (PGN 127493). Users are now able to monitor a variety of fluid levels such as fuel, water, black water, gray water, fresh water, and bait tank levels (PGN 127505). Battery condition, voltage, current and temperature may be monitored (PGN 127508) , as well as environmental parameters like air temperatures (PGN 1230311) and barometric pressures (PGN 130323). A number of temperatures can also be displayed (PGN 130312) - users may choose to monitor sea temperatures, live well temperatures, freezer temperature, engine room temperatures, cabin temperatures, and EGT. Meteorological station information can also be shown on the display, including wind speed and direction (PGN 130306).
Chetco Digital's motto is simple - their goal is to help you make the best use of your dash space by integrating all of the information you need on a single display. Through a single hub, users can now monitor multiple engines, output to a PC, and output to marine-grade color display heads. By eliminating the need for individual NMEA interface connections and doing away with multiple connection nodes, point-of-failure issues are minimized and cost is lowered for users.
The single hub also dramatically minimizes system footprint: "We are better utilizing the real estate on your dash," says Burke. Burke is quick to point out that "[t]he advantage is by reading data from other sources, we make our screens more productive for people. It takes that little bit of space and makes it more productive - we can pipe more information into one portal. We can go from a weather station to a freezer space to a diesel engine running a propeller."
Customization is crucial, notes Burke. "You only have so much space," says Burke, "so it is important to keep critical data at the forefront while allowing for multiple setup options." Up to 16 NMEA 2000 parameters can be shown on the display, and those 16 can be chosen from a field of up to 350 parameters.
A Chetco Digital SeaGauge™ with 1 NMEA interface starts at only $995.00, where other companies would require multiple NMEA interfaces for each required function at an inflated cost.
The simple, touchscreen user interface allows for customization of layouts using a library of stunning color graphics, and displays data from over 350 parameters via drop down menus. Different graphic themes can be loaded to suit operator preference. The marine grade color touchscreen display heads allows viewing of multiple data sets with simple touch screen functionality. Touchscreen functionality eliminates separate push buttons, which improves user interface and system responsiveness with instant screen updates. Accessibility is also improved, as the vibrant graphics are viewable in bright sunlight.
The PC interface also allows for easy viewing of NMEA 2000 data in graphical formats. Data logging to a PC allows for sophisticated engine diagnostic review with ease. Pro Models offer data logging to a USB memory stick for even greater convenience.
For more information and where to buy SeaGauge™ and other Chetco Digital Instruments products, please visit their web site at http://www.chetcodigital.com or email sales(at)chetcodigital(dot)com or call (541) 661-2051
Contact
Joe Burke, CTO
Chetco Digital Instruments
Phone: (541) 661-2051
Email: joe(at)chetcodigital(dot)com
Web: http://www.chetcodigital.com/press
Box 5359 Brookings, OR 97415
###