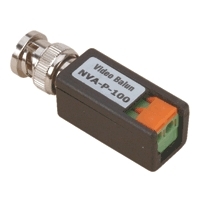 Walnut, CA (PRWEB) June 17, 2010
Computer cable supplier, PI Manufacturing, Corp. (PIMFG) is proud to showcase their expanded line of security products that complement their high quality cable assemblies. Among the security products in their product line are their professional video baluns, designed to increase the distance of security cameras from 1000-6000 feet using standard Cat5e or UTP cable. PI currently carries passive, active, and rackmount video balun solutions with several options available for any type of setup.
Additionally, PIMFG video baluns uses wire pair 7 and 8 for video, which allows for both video and networking to be run on the same cable. Also, their video baluns use 18VDC Input / 12VDC Output for power which allows the power to be run over longer distances. Standard video baluns use 12VDC Input / 12VDC Output, which will degrade over longer distances due to insufficient power.
PIMFG prides itself in offering a wide selection of competitively priced and professional video baluns to complement its security products and cable assemblies line, including DVRS, security cameras, power distribution boxes, computer cables, audio/video cables, adapters, and more. Because PIMFG has its own factory and overseas partnerships with manufacturers overseas, it's able to provide unbelievable discounts to resellers, installers, and end users with same day shipping for all in stock products. For more information on the company's products, visit PIMFG's website or subscribe to their Facebook, Twitter, or YouTube page for the latest deals, updates, and demos.
About PI Manufacturing Corp.
Since 1986, PI Manufacturing Corp. has been serving its customers for over 24 years. Specializing as a manufacturer, importer, and distributor, PI provides a full line of quality computer cables, networking cables, audio/video cables, adapters, home theater products (HDMI, LCD Plasma Wall Mounts, Ceiling/In-Wall Speakers), security products, accessories and thousands of other items to our customers at wholesale prices. Since its inception, the company's reputation is well received as one of the fastest growing companies in the US.
###