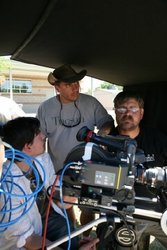 It is a tremendous honor to have this film accepted by the LA Shorts Film Fest along with so many other great films," Santiago Jr. said.
Scottsdale, AZ (PRWEB) June 21, 2010
SunCast Entertainment VP of Creative Development announced today that his short film "Fallen Hero" has been accepted into the prestigious LA Shorts Fest, July 22-30.
"Fallen Hero" is a super 16mm short film written, directed and executive-produced by Santiago Jr. It premiered at the Phoenix Film Festival in May, and earned high praise at the Scottsdale Community College Film Festival, taking top honors in the categories of Best Dramatic Short and Best Produced Screenplay. It also earned second place for editing.
"It is a tremendous honor to have this film accepted by the LA Shorts Film Fest along with so many other great films," Santiago Jr. said. "I worked with a fantastic cast and crew on this project, and we wouldn't have this opportunity without their hard work."
The LA Shorts Fest, in its 14th year, is an Academy Award nominating film festival that is attended by top industry talent, agents and studio executives. In past years, 33 films that were featured in the LA Shorts Fest have gone on to earn Academy Award nominations, while 11 filmmakers have won an Oscar.
"Fallen Hero" is Santiago's fourth short film. His other previous works include "Diablita", "Once Upon a Time in the Desert" and the award-winning "El Trafico".
Santiago Jr. is working on his fifth short film, "Xtraction". This action-thriller set in Mexico and the world of organ trafficking is currently in pre-production with SunCast Entertainment LLC., and is scheduled to begin filming in Arizona in July.
Santiago Jr. is a two-time fellow of the National Association of Latino Independent Producers (NALIP) Writers Lab in 2006 and 2007; and a two-time fellow of the NALIP Producers Academy as a producing fellow in 2006 and as a directing fellow in 2007. He also was a two-time finalist for consideration to the Sundance Writers Lab in 2007 and 2008.
A proud client of William Morris Endeavor Entertainment, SunCast Entertainment is a film and media production company whose mission is to make commercially viable, culturally significant, emotionally resonant and intellectually satisfying film and media entertainment for distribution across multiple platforms in this era of "new media" and digital technology. SunCast Entertainment currently has several projects in various stages of pre-production, including the short film "Xtraction" and the highly-anticipated Marco Santiago Jr. feature film "86".
To find out more about SunCast Entertainment go to http://www.SunCastEntertainment.com, http://www.Facebook.com/SunCastEntertainment or follow on Twitter at http://www.twitter.com/suncastent.
###