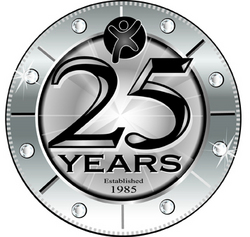 I am very grateful that the company that started so humbly 25 years ago has survived. I thought it was a good idea at the time, and, so far, time has proven that it was. I am also grateful for each and every employee who comes to work to add themselves into the fantastic soul that this company has
Monterey, CA (PRWEB) June 25, 2010
Discount School Supply (DSS), based in Monterey, California, celebrates its 25th anniversary in July with a giveaway of $25,000 in prizes! In an economy where education budgets are especially tight, this enormous giveaway is timely for teachers--especially DSS core customers who work in early childhood education--who are gearing up for the back- to- school season.
The Grand Prize--to date, the largest prize package ever offered by DSS--consists of $10,000 in classroom products, with two Celebration Second Prizes worth $5,000 each in products. The 25th Anniversary Great Giveaway launches June 28, 2010 and the drawing for the Grand Prize will be on July 30, 2010. In addition to the three top prizes given away at the end of July, entrants may also win one of 25 prizes of $100 gift certificates for product from Discount School Supply. In each of the four weeks prior to the Grand Prize drawing, DSS will also award 25 Weekly Winner prizes of gift certificates worth $25 each for the purchase of products from DSS. The giveaway is open to all legal residents of the United States and entries may be submitted online at DiscountSchoolSupply.com/25. There is no purchase necessary to enter.
Among the items awarded to the Grand and Celebration Second prize winners are products from the following brands, all popular in the early childhood educational marketplace: Ailene's® Crafting Adhesives, American Paper, Angeles®, Brand New World™, Carpets for Kids®, Children's Factory®, Childs Play, Classroom Solutions, Colorations®, Con-Tact®, Crayola®, Do-A-Dot™ Art, EduShape®, Elmer's®, Grantco™, Hamilton™, Jonti-Craft®, Joy Carpets, KidCraft®, Learning Carpets, Learning Resources®, LEGO®, Mr. Sketch®, Pacon®, Royal Seating, Royalco®, Scholar Craft™, Sharpie®, Step2®, Tot Mate® and Wikki Sticks®. All the items included in the prizes have been donated by DSS vendors in celebration of the anniversary.
"I'm so thrilled we're able to offer such generous prize packages with support from our vendors to hard-working educators in early childhood. We hope every teacher will register to win one of these amazing prizes and continue to check our site regularly for specials in celebration of our silver anniversary. We wouldn't be here without 25 years of customer loyalty and support, and it's time to thank our wonderful teachers in a big way," said DSS CEO Kelly Crampton, a 21-year veteran of the company.
Discount School Supply was founded in 1985 by Ron Elliott, currently the Executive Chairman of Excelligence Learning Corporation, parent company of Discount School Supply. Elliott's is the classic story of an entrepreneur. The original company specialized in arts and crafts materials because he saw an opportunity in the marketplace to offer consumable products, such as crayons, paint and paper, which were priced lower than then-existing competitors. He published a small catalog on his personal computer and mailed it to local preschools and child care centers. Later, he and a small staff--some of whom are still with the company 25 years later--went to trade shows to demonstrate products and introduce their new company. This was the same small staff that answered the phone, packed the orders and shipped the boxes. Besides the loyalty of its customers, DSS has 25 years of supportive employees to thank for being part of today's success.
"I am very grateful that the company that started so humbly 25 years ago has survived. I thought it was a good idea at the time, and, so far, time has proven that it was. I am also grateful for each and every employee who comes to work to add themselves into the fantastic soul that this company has," Elliott said.
Part of the soul of the company also involves its commitment to the future of children, reflected in its logo--a symbol of the DSS' awareness of the responsibility it shares to protect the earth for future generations. DSS' eco-minded programs also began 25 years ago when the company began to re-use the boxes sent by vendors to pack customer orders. Since 1990, DSS has used biodegradable packing peanuts that "melt" in water, aren't made with petroleum and will not contribute to our planet's growing waste problem. DSS catalogs are 100% recyclable, using soy- and vegetable-based inks. A bank of free online resources about eco-friendly products and earth-friendly activities for children are made available to teachers online at Discount School Supply.
From a very small operation in San Jose, California, that opened its doors on July 1, 1985, Discount School Supply grew steadily, acquired other companies, and became Excelligence Learning Corporation in 2001. Now one of the largest employers in Monterey County, Excelligence employs hundreds, with warehouse facilities in four locations in the United States and a consolidation facility in Ningbo, China.
"One of our biggest accomplishments is that our workforce has grown to over 500 dedicated people…in that way, we are contributing to communities, and providing job security and opportunity for a lot of people, in all of the cities where we operate. I feel strongly that DSS has contributed greatly to early childhood education by providing high-quality materials at low prices. We've had fun, and hopefully we've made a difference along the way for children -- and for our employees," Crampton said.
In addition to supporting the early childhood community, DSS also supports the community at large. Local programs include annual toy drives to benefit local charities; annual food drives to support the Food Bank of Monterey Country, continuous contributions to local pre-schools, and a partnership with the Monterey Children's Museum, as well as participation in Relay for Life, the Rotary Club, Feed the Children, Hope For the Heart, the American Red Cross and many others.
Discount School Supply (DSS) is a developer, manufacturer and distributor of top-quality products for the early childhood classroom. The leader in arts and crafts in the early childhood market, DSS has developed a wide variety of proprietary products, including BioColor ® Paint, Liquid Watercolor ™ Paint and the full line of Colorations ® arts and crafts materials. DSS, unique in the marketplace because it ships from four warehouses nationwide, also promotes its 110% Lowest Price Guarantee, its customer-top-rated customer service and its consistent same-day shipping. In 2008, DSS added products for children with special needs. Discount School Supply is part of the Excelligence family of companies. For more information visit http://www.DiscountSchoolSupply.com or call 1-800-627-2829.
###