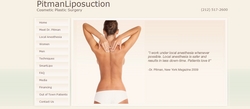 New York (Vocus) June 16, 2010
Dr. Gerald H. Pitman performs liposuction in Manhattan in addition to a full range of cosmetic procedures. Liposuction is one of the top cosmetic procedures available, sought by both men and women to eliminate fat pockets that are resistant to diet and exercise. In order to provide information to prospective and established patients, Dr. Pitman has developed a website for PitmanLiposuction™, the dedicated liposuction center within his practice.
Dr. Gerald Pitman takes a comprehensive approach to performing liposuction, utilizing a variety of methods to achieve successful results for his patients. Dr. Pitman aims to further educate web visitors on the options available to them, so that they can make a more informed decision on what procedure suits their needs. Dr. Pitman offers a variety of liposuction techniques, including power-assisted liposuction, water-assisted liposuction, radio frequency-assisted liposuction (application for FDA approval pending, available only as part of clinical investigation), and laser liposuction in New York. Each of these techniques is profiled in-depth on his new website, so that visitors can understand the differences between them and the risks and benefits of each. Dr. Pitman stresses, however, that patients should keep in mind the importance of seeking an experienced plastic surgeon, and that the latest technology may not be suitable for every patient.
The new website for PitmanLiposuction™ also describes areas treatable with liposuction. These areas include the neck and chin, tummy, thighs, hips, buttocks, and arms. Both male and female patients will find a full webpage devoted to information geared specifically for their needs. Those interested in liposuction in New York will also find a Frequently Asked Questions page that provides specific answers in an easy-to-find format. Financing information is also included on the website, as well as a guide for out-of-town patients. The website also provides a way to communicate any specific questions to his office in Manhattan through the "Contact Us" page. Each request is directed to a member of his staff who will respond personally and promptly to the inquiry.
The new website for Dr. Gerald Pitman new site is designed as an easy-to-navigate tool for those who are actively considering having liposuction surgery, as well as for those looking for general information on specific techniques. It also gives patients the opportunity to browse a media page to read about Dr. Pitman's appearance in various national and local publications, as well as a video clip featuring Dr. Gerald Pitman discussing liposuction and plastic surgery on the PBS series, Life Part 2.
Overall, Dr. Pitman hopes his new website will give visitors a clearer idea of the procedures available to them prior to choosing to have a consultation.
About Gerald H. Pitman, M.D.
Dr. Gerald Pitman offers liposuction and a comprehensive range of aesthetic enhancement procedures at his practice in New York. He is certified by the American Board of Plastic Surgery. Dr. Pitman is a member of the American Society of Plastic Surgeons, the American Society for Aesthetic Plastic Surgery, the American College of Surgeons, the New York Regional Society of Plastic and Reconstructive Surgeons, and the Northeast Society of Plastic Surgeons. Dr. Pitman has written 29 original papers published in some of the nation's leading peer-reviewed medical journals, and is the author of 11 book chapters on plastic surgery in addition to his landmark textbook, Liposuction & Aesthetic Surgery. He currently serves as Clinical Professor of Surgery at New York University School of Medicine and is on staff at Lenox Hill Hospital, NYU Medical Center, and The New York Eye and Ear Infirmary.
Dr. Pitman's practice is located at 170 East 73rd Street, New York, NY 10021. For more information please go to Dr. Pitman's websites http://www.pitmanliposuction.com and http://www.drpitman.com or contact the office at (212) 517-2600.
###