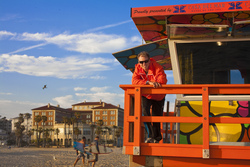 Santa Monica, CA (PRWEB) June 16, 2010
Remember 2010 as the Summer of Color at Hotel Casa del Mar with a package that will engage guests in an exclusive exploration of Ed Massey's Portraits of Hope's Lifeguard Towers Transformation, LA's most colorful and philanthropic endeavor. The Summer of Color package is available from June 15 – August 30, 2010 for $7,700 and includes:
*Five (5) nights in an Oceanview Penthouse at Hotel Casa del Mar overlooking the beach and these iconic works of art
*A private tour of the Ed Massey fine art exhibit at Hotel Casa del Mar from the artist himself. You will hear first hand the inspiration behind each of his unique works as well as get a first hand account of his history-making transformation of L.A. County's Lifeguard Towers
*Two pool deck cabana massages from Sea Wellness Spa
*A daily "How many towers can you take?" cardio workout with a private trainer
*Candlelit private dinner for two on the bow of the pool deck overlooking Santa Monica Bay
*Guests will receive one (1) of the 180 limited edition L.A. County Lifeguard Tower "Summer of Color" print
*Price excludes taxes and gratuity. Reservations based on availability.
For five months, Los Angeles' legendary beach towers along 30 miles of the nation's most recognized coastline will come to life in vivid designs and colors, capturing the attention of and engaging millions of Angelenos and visitors with this new public art and civic initiative. Ed Massey is the creator of the Portraits of Hope creative therapy program, which has benefited thousands of children and adults coping with illness and adversity by their participation in one-of-a-kind artistic collaborations that transform cityscapes and interior settings.
As an extension of the joyous, optimistic spirit behind artist Ed Massey's coastal transformation of 156 lifeguard towers from Palos Verdes to Malibu, guests, art enthusiasts and intrigued spectators are invited to view a more personal collection from the international fine artist and visionary in the welcoming lobby of Hotel Casa del Mar, with clear views of the Massey-painted coastline, a sampling of the artist's body of work, said to serve as a barometer of the contemporary world, lines the walls, shelves and backdrop of the iconic hotel. From surfboards to ties to fish tanks, along with his iconic works including The Wedding, Corporate Ladder and Shapes Jacket, Hotel Casa del Mar is proud to open its doors to incorporate the vivid impact of an artist dedicated to saving lives. Ed Massey's artwork is on exhibit at Hotel Casa del Mar now through August 31 and is the inauguration of the Hotel's "Live Well Again" Series.
For more information, please call 310-581-5533 or go http://www.hotelcasadelmar.com.
Press Information: Murphy O'Brien, Inc.
Leah Goldstein
310-586-7124
lgoldstein(at)murphyobrien(dot)com
Ashley King
310-586-7126
aking(at)murphyobrien(dot)com
###