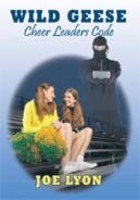 Stand for Something or Nothing!!!
Los Angeles, CA (PRWEB) June 21, 2010
Joseph Larnyoh, author of Keys to Success 21 things every teen should know, announce great books for this summer. Super Eagle and Wild Geese.
Wild Geese - Cheerleaders Code is about a group of high school students — a cheerleading team — who live on a quiet simple island. Then, when they're faced with a supremely difficult challenge — taking on a violent gang — they must show what they're truly made of. Hope you enjoy it, and take inspiration from it.
Super Eagle a fiery beginning tells the story of a young woman endowed with eagle-like powers and during a visit to Central America, she learns of a plot to destroy much of the coastline, all in the name of profit, and to hasten Global Warming! With the help of some friends she makes along the way, they work to stop the plot and protect the environment and citizens of the area.
The Keys to Success: 21 Things Every Teen Should Know is a unique guide for teenagers, providing tools aimed at helping teenagers attain success for the rest of their lives. The book presents good, solid advice and ideas that every teenager should know. By guiding their thoughts and their actions, teens begin a path towards success and prosperity. Guidance is provided for teens to get to know who they are, be in touch with what they want, understand their strengths and weaknesses, and not try things halfheartedly. They are encouraged to develop their personal strengths as a tool to help them stick with life's challenges as they arise and keep going on their path.The book stresses that people are responsible for their own lives and show teens how they can get to know themselves, make improvements and lead lives full of satisfaction and meaning.
These titles are available for purchase through Jijol website at http://jijol.com.
# # #