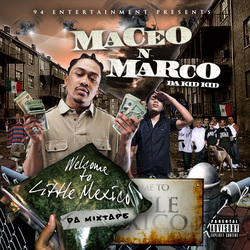 I'm just ready to go hard & make music for everybody to ride to. My brother Marco got his own style & can hold his own so we got together with our older brother Mario to form 94 Entertainment & put out good music for the fans & the streets~ Maceo Barnes
Norcross, GA (PRWEB) July 5, 2010
Maceo Barnes, former label mate of Gucci Mane, Yung Ralph, Khia and DipSet's Freekey Zeekey is now back after a few years stint and reppin' his hood [Zone 6's notorious KIRKWOOD], and takin' this rap game "To the Max"; like one of the lead singles off his new mix tape Welcome to Little Mexico (94 Entertainment) which hit the net July 4, 2010 in honor of his independence and new journey in the music business. Lead singles include hood anthems; "Flexin", "How to Swagg" and "Play".
Highly respected among the Durty South's roster of inbred talent, Maceo, at the prime age of 19 told the Hoes to "Go Sit Down", warned his homies not to hit him on his "Nextel Chirp" and put Kirkwood aka Little Mexico on the map as the backdrop in his segment for MTV's "My Block".
From 2005-06 Maceo was honored with a "Southern Entertainment Award", graced the cover of Fader Magazine, ranked #1 Independent Ringtone in the Nation and was featured in top urban publications; Source, XXL, and named as Vibe Mag's "NEXT" to blow! Unfortunately after a series of label disputes and deals gone bad the "15 minutes of fame" clause kicked in and the budding super star faded from the spotlight.
Over the past several years, Maceo became wiser and stronger and more focused than ever. He's kept his hustle grind hard and his ear to the streets. He grew as a man, became a proud dad and continued to work hard at his craft, perfecting new and more diverse ways of rapping, taking his skills to a whole new level.
One of 5 closely knit siblings, Maceo recognized the raw talent and defiant charisma in his little brother Marco Barnes and challenged him to get in the music game and even strive to surpass his success as a rap artist and performer.
At 23 years old, Marco has teamed with brothers Maceo (24) and their older brother Mario (age 26), to create a Barnes family legacy dubbed, "94 Entertainment" to produce, publish and promote music products; their 1st project "Welcome to Little Mexico" hosted by Swamp Izzo is Maceo and Marco's debut mix tape featuring a new, improved and evolved Maceo and introduces his talented and tenacious younger brother Marco's raw southern lyrical talent.
Loyal Maceo fans fending for his return are about to be served and new audiences will soon be hooked on "Welcome to Little Mexico" and like most things in Kirkwood…they can get it on the low low…actually for FREE on http://www.maceoworld.com
Media outlets are showing much love to the Kirwood reps, Hiphopruckus.com did a feature on the return of Maceo and the launch of "Welcome to Little Mexico" the article can be viewed at: http://hiphopruckus.com/2010/06/maceo-welcomes-you-to-new-mexico.html/
The official "Welcome to Little Mexico" Media Day will take place on Friday, July 9, 2010 4-7pm at Everleigh Day Complex 3772 Pleasantdale Rd. Suite 110 Atlanta, GA 30340
For Media Credentials and/or specific Media Requests contact Celebrity Publicity Publicist Trea Davenport of Trea Day Management & Publicity (http://www.treadaypr.tumblr.com) at 678.523.3088 and treadaypr(at)gmail(dot)com.
Follow Maceo and Marco at http://www.Twitter.com/94Entertainment or Maceo: @maceoworld and Marco: @marcodakid.
# # #