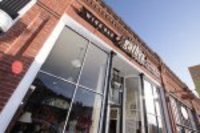 "I have had the pleasure of watching more women join the ranks and make a wonderful impact on the local wine scene" - Lane Tanner
Arroyo Grande, CA (PRWEB) June 21, 2010
Wednesday June 30th, Gather Wine Bar brings to its customers, Winemaker Wednesday Tastings with a twist - this time showcasing female winemakers of the Central Coast.
When the word "winemaker" is said, it brings many ideas to mind of men stomping grapes and tasting their spoils with their feet up on a barrel looking at the sunset. While these are romantic pictures of a pretty tough job that requires a skill set that overlaps both science and art, it also is missing one important facet - women.
With over 3000 wineries in California and the estimate for the percentage of winemakers that are female are about 15-20 percent, women winemakers are definitely in the minority in the wine industry. This small group is a powerful one with vintages from wineries like Buttonwood, Lane Tanner, Graves, Bonaccorsi, Edward Sellers, William James under its belt to name a few from the Central Coast.
What can be seen from this group of winemakers is a distinct personality and style that can be attributed to many things, but you cannot ignore the influence of their gender. "As one of the first female wine maker/winery owners of the area, I have had the pleasure of watching more women join the ranks and make a wonderful impact on the local wine" says Lane Tanner of Lane Tanner Wines. Starting in 1984, Lane is a great example for women in the wine industry working her way up the ranks until ultimately running and owning her own label. Female winemakers bring a steadfast determination and passion that makes what they do special, and delicious.
Gather Wine Bar (http://www.gatherwinebar.com) is proud to bring locals and visitors to California's Central Coast some of the best winemakers around (who also happen to be women) all together in one night at its Arroyo Grande location. Current winemakers that will be presenting at this event are:

Each winemaker will be bringing their favorite current release to pour and they will be paired with appetizers being prepared by Gather and Kim Frederick (formally of Old Edna in San Luis Obispo) from 6-9pm on Wednesday June 30th. Tickets are on sale at LocalWineEvents (http://www.localwineevents.com/events/detail/317722), or directly at the wine bar at 805-474-4771.
Women and wine pair perfectly together.
###