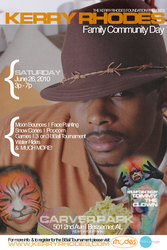 Bessemer, AL (PRWEB) June 25, 2010
AZ Cardinals Star Safety Kerry Rhodes returns home to Bessemer, AL to give back to his community with a free day of family and fun at Carver Park, Saturday, June 26, 2010 from 3:00pm – 7:00pm. This event founded by Kerry is designed to foster community spirit in Bessemer by providing a day of activities for the entire family. The event features entertainment by Tommy the "Krumping" Clown, moon bounces, water rides, popcorn, snow cones, cotton candy, face painting, games and more. There will also be a 3 on 3 Basketball Tournament for kids age 10-18, registration for the tournament is available upon arrival.
The Kerry Rhodes Foundation will also be presenting the Bessemer City High School Men's Basketball Team with donated practice jerseys by Addidas. This will be a special day in Alabama for Kerry Rhodes.
This event is sponsored by The Kerry RHODES Foundation.
About The Kerry RHODES Foundation
The Kerry RHODES Foundation is a non-profit organization founded in 2006 by NFL New York Jets star Kerry Rhodes. Kerry recognized the importance of inspiring young minds to visualize goals, and the need to provide resources that enable these same young minds to pursue and attain these goals. Mr. Rhodes understands these goals are best achieved through well equipped educational facilities which provide their students with choices, opportunities and inspiration. For this reason, one of the primary missions of the Foundation is to provide high schools located in financially depressed areas with resources, equipment, programs and activities that will assist with the academic, athletic and social development of their students.
Additionally, Mr. Rhodes understands the importance of acknowledging the bold steps of those remarkable young men and women who dare to take their dreams even further. For this reason, the other primary mission of the Foundation is to provide financial assistance to these high schools to enable them to furnish scholarships to certain talented young men and women for the continuation of their academic careers beyond high school. The Kerry Rhodes Foundation has also begun to bring awareness about cancer, physical health and childhood obesity among other initiatives.
About Tommy the Clown
Thomas "Tommy the Clown" Johnson was born in Detroit and moved to Los Angeles when he was an early teen. Like many of his friends and neighbors, Tommy found himself in and out of trouble while trying to survive. After spending 5 years in jail, he realized that this lifestyle was not for him and needed to make a drastic change. Determined to never go back to his old ways, Thomas rejoined society and got an honest job as a typist clerk. But in 1992, Thomas' life changed in a way he could have never predicted. One of his co-workers asked him to be a clown for her child's birthday and because of his upbeat personality and sense of humor, she thought he'd be perfect for the job. Up for the challenge, he took the job and Tommy the Clown was born. Tommy the Clown has since become the pioneer of an inspirational dance movement known as "Clowning" and "Krumping" and turned a popular form of birthday party entertainment into a worldwide phenomenon.
Tommy's shows involved the latest music and dancing and he would engage the kids to get up and dance with him. At the parties, he saw how the kids would light up when they would dance and Tommy quickly developed a loyal following all over LA. Tommy soon realized he was not only a party entertainer, but also a role model and leader.
Tommy realized that he could give the youth a unique opportunity to get into dancing instead of drugs or gangs by creating a dance crew called the Hip Hop Clowns that he would hire to perform with him at the parties. Tommy's rules were simple: No gangs, No drugs, Do well in school (grades, attendance and behavior) and Be a role model by living a positive lifestyle at all times. Once they met those requirements, Tommy took the dancers and their raw talents and trained them to be a performance crew while always encouraging them to tap into their own creativity.
Tommy's dance craze caught the attention of award-winning director and photographer, David LaChapelle – who was compelled to film this amazing movement. LaChapelle directed the documentary feature, Rize, which was released in summer of 2005 through Lions Gate Films.
Tommy the Clown and the Hip Hop Clowns have since been asked to entertain for celebrities such as Madonna, Pamela Anderson and Cedric the Entertainer. They have also traveled all over the world including London, Japan, Germany and Hong Kong making various appearances and performances, inspiring people all over the world to keep spreading the movement. Tommy has also appeared at various schools and colleges across the United States and recently formed a partnership with the Los Angeles Unified School District to provide an in-school workshop on Clowning and Krumping based on the California Education Standards. His immediate goal is to establish the Battle Zone League in middle and high schools where the students wanting to try out need to have a teacher recommendation and also must maintain good behavior, attendance record, and grade point average at all times.
For more information on the Kerry RHODES Foundation please visit http://www.KerryRhodes.com
For Media Credential Approval & Interviews Please Contact:
Tamiko Thomas | Senior Publicist | 571-215-3157
###