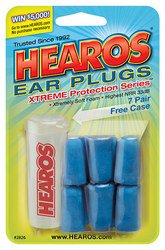 For the past eighteen years, our HEAROS brand of ear plugs has been the preferred choice of sports fans around the world to protect their precious hearing against high decibel events
Laguna Hills, California (PRWEB) June 17, 2010
HEAROS, America's favorite brand of ear plugs, announced it would expand its "free ear plug trial" program to raise awareness for hearing protection at loud sporting events, including the World Cup of Soccer.
"For the past eighteen years, our HEAROS brand of ear plugs has been the preferred choice of sports fans around the world to protect their precious hearing against high decibel events," stated Doug Pick, the creator of HEAROS ear plugs. "While vuvuzelas are part of the World Cup culture in South Africa, those exposed to horn blasts can unfortunately fall prey to irreversible hearing damage."
Pick is referring to the festive horn blown by fans during soccer matches. Although its origin is debated, some suggest the vuvuzela was once used to call people together across long distances in the African Bush. Today, plastic variations of the horn are used by fans to distract opposing teams and cheer for one's own team.
As a result of rampant and painful vuvuzela fanfare, there are reports of a country-wide shortage of ear plugs in South Africa during the 2010 World Cup.
"At 127 decibels, we would consider the vuvuzela a serious health risk," notes Pick, who distributes HEAROS in over 50,000 retail stores around the world. "Our ear plugs, like Xtreme Protection HEAROS, were designed to protect the hearing of soccer fans, players and coaches - by reducing noise up to 33 decibels."
To further educate the public, HEAROS has expanded its one-of-a-kind free ear plug trial program. For a limited time, visitors to the HEAROS website can select a complimentary pair of ear plugs from its most popular styles - Ultimate Softness HEAROS, Xtreme Protection HEAROS and Sleep Pretty In Pink.
"We feel HEAROS has a responsibility to educate the masses about the benefits of our quality ear plugs," Pick notes, "Over the next 12 months, we plan to give away over 1,000,000 ear plugs to help our customers reduce noise and protect their hearing."
ABOUT HEAROS EAR PLUGS:
Since 1992, the HEAROS brand of high quality ear plugs has been trusted by consumers around the globe. HEAROS are available at every major retailer including Walmart, Walgreens, Target, CVS, Rite Aid and Guitar Center. Go to http://www.HEAROS.com for more information.
# # #