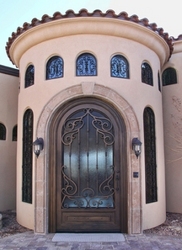 "This translates into huge improvements in delivery time and final production costs to the benefit of our customers." - Tim Cornelius
Gilbert, AZ (PRWEB) June 29, 2010
Tim Cornelius, President of First Impression Security Doors, is pleased to announce the addition of a revolutionary new metal fabrication system to their manufacturing process here.
"The new Hebo Iron Fabrication System allows us to make most standard and myriad custom designed components in-house that were previously obtained from outside vendors," Cornelius said.
"This translates into huge improvements in delivery time and final production costs to the benefit of our customers. It also raises the creative bar for design capabilities; now limited only by the customer's imagination and our artisan's skills."
The Hebo system augments other high-tech metal forming equipment found at First Impression Security Doors well. It is computer numerically controlled (CNC) for pin-point accuracy in the repeatability of identical components manufactured. It works well to compliment other CNC equipment such as the plasma cutting center and press brakes.
Perhaps the best feature of the Hebo System is that it is modular, and therefore scalable. As new capabilities in manufacturing are desired, or old ones improved upon, the appropriate module can be added to, or modified on, the existing machine. This allows First Impression Security Doors unlimited flexibility to upgrade their system as needed at enormous savings to the company, and ultimately their customers.
"We are very excited about what this means for us and our customers. Instead of purchasing a specialized machine to perform a specific task, say making a custom storm door, we simply upgrade a module, or tool up differently, at a fraction of the cost of a new machine and we're off and running. It's a win-win for everyone," according to Cornelius.
First Impression Security Doors manufactures ornamental security screen doors and iron gates, storm doors and iron entry doors for residential and commercial applications. A family-owned business since 1995, First Impression Security Doors has expanded its product line over the years to include: iron window guards, pool/view fencing, spiral staircases and rails, patio furniture and iron artwork.
As the economy drags its way toward recovery, people look to protect their investments ever harder. Many homeowners and small businesses are dressing up existing properties with security improvements such as new storm doors or view fencing. This trend currently seems more prudent than major renovations or building new. First Impression Security Doors stands ready to meet demand.
"This new machine puts us head and shoulders above the competition to meet market demand for quick and affordable ornamental iron work. It allows us to make truly unique pieces of functional art for our customer's enjoyment and safety. Send us your ideas and we'll deliver your vision to you anywhere in the United States in a tangible form," said Cornelius.
About the Company: Family-owned since 1995, First Impression Security Doors manufactures ornamental iron products to include: security screen doors, storm doors, iron entry doors, window guards, iron gates, pool/view fencing, spiral staircases and rails, patio furniture and iron artwork for residential and commercial applications.
To learn more about First Impression Security Doors, visit: http://www.firstimpressionsecuritydoors.com or our headquarters at:
First Impression Security Doors
1415 N. Mondel Drive
Gilbert, AZ 85233
To arrange an interview with Tim, please call: 1-800-360-1788
###