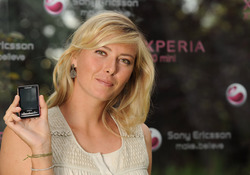 Keeping in touch on the road is easy with my Sony Ericsson XPERIA X10 Mini as the Timescape feature brings together all my recent messages, missed calls, Facebook™ news and Tweets in one place…
(PRWEB) June 22, 2010
Taking time out from her busy schedule, Sony Ericsson global brand ambassador, Maria Sharapova, answered a range of questions, many of which were posted by her fans. Speaking to popular TV and radio presenter OJ Borg, Maria expressed her excitement ahead of her favourite tournament, and told OJ how she stays in touch with her loved ones:
"Keeping in touch on the road is easy with my Sony Ericsson XPERIA™ X10 Mini as the Timescape feature brings together all my recent messages, missed calls, Facebook™ news and Tweets in one place. It's also great to receive instant updates from social networking sites such as Facebook™ on my handset so I can see all of the support from fans, friends and family."
With a Facebook™ following of over two million, Maria put time aside to answer questions submitted by 10 lucky fans. Speaking just after, Maria said: "That was so much fun! It's great to get the opportunity to engage directly with my fans and answer their burning questions. I particularly enjoyed the one asking what one item I can't live without, it definitely got me thinking!"
Legal
1) Facts and features may vary depending on local variant. 2) Operational times are affected by network
preferences, type of SIM card, connected accessories and various activities e.g. playing games. Kit contents and colour options may differ from market to market. The full range of accessories may not be available in every market.
© Sony Ericsson Mobile Communications AB, 2010
The Liquid Identity logo, Xperia, PlayNow and TrackID are trademarks or registered trademarks of Sony Ericsson Mobile Communications AB. Sony is a trademark or registered trademark of Sony Corporation. Ericsson is the trademark or registered trademark of Telefonaktiebolaget LM Ericsson. Additional information regarding trademarks may be located on our website at: http://www.sonyericsson.com/cws/common/legal/disclaimer.
Other product and company names mentioned herein may be the trademarks of their respective owners. Any rights not expressly granted herein are reserved. All terms are subject to change without prior notice.
Sony Ericsson Mobile Communications AB, SE-221 88 Lund, Sweden.
Printed in January 2010, R1A
About Sony Ericsson UK & Ireland
Sony Ericsson is a 50/50 joint venture by Sony and Ericsson established in October 2001, with global corporate functions located in London and operations in all major markets. Our vision is to become the industry leader in communication entertainment where new styles of communication through the internet and social media become entertainment. Sony Ericsson offers exciting consumer experiences through phones, accessories, content and applications. For more information visit: http://www.sonyericsson.com
###