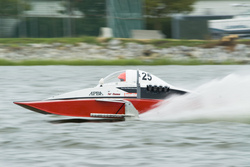 Hampton, VA (Vocus) June 17, 2010
The nation's oldest continuously running hydroplane boat race, Hampton Cup Regatta, will celebrate its 84th Anniversary August 13-15, 2010. The competition, taking place on Mill Creek at the entrance of Fort Monroe in Hampton Virginia, will boast more than 70 hydroplanes and Jersey Speed Skiffs from across the United States and Canada!
Featuring speeds in excess of 150 miles-per hour, the Hampton Cup will play host to some of the fastest watercraft in the entire world. At 20 ft. long, these nautical rockets can often reach speeds of 150 mph, setting both national and world records. Best of all, the Hampton Cup Regatta is one of the last remaining boat races in the country FREE OF CHARGE!
This year, Hampton welcomes 10 classes of the fastest hydroplanes in North America, including the ever-popular J-Stocks (youth class, ages 9-14, competing for national points).Considered the loudest piston-powered racing boats in the world, these hydroplanes are sure to have on-lookers marveling at their warp-like speed.
Other weekend festivities include food and beverage vendors, souvenir programs, a children's area, a very special Bash at the Bridge Friday night party, and racing-enthusiast clothing and collectibles. Race contestants will be also on-hand participating in autograph sessions throughout the duration of the weekend. Lawn chairs are highly encouraged as bleacher seating is extremely limited. Attendees are also encouraged to bring pop-up tents or umbrellas for shade; however coolers, pets, bikes, and skateboards are not permitted.
The start at 12:00 Noon and end at 5:00 p.m. daily in Mill Creek, located at the entrance of Fort Monroe from the East Mercury Boulevard bridge in Hampton, Virginia. The bridge opens to the public at 9:30 a.m. and boat checks will take place before the races begin. The Bash at the Bridge begins at 7:00 p.m. on Friday August 13 and will feature live musical entertainment. The bash is free and open to the public (food and beverages can be purchased on-site).
Viewing is available on the bridge as well as on Fort Monroe. Spectators wishing to view from the fort must have a photo I.D. and vehicle registration as there will be a mandatory identification check to access the base. Fort Monroe, home to the U.S. Army Training and Doctrine Command, is still an active military base.
For more information on the 84th annual Hampton Cup Regatta, check out http://www.hamptoncupregatta.org or call 757/727-8311.
Location:
East Mercury Bridge at the Entrance to Fort Monroe in Hampton, Virginia
The oldest continuous inboard race in North America, Hampton Cup Regatta was first held in 1926. The regatta is the largest sporting event in Hampton, drawing spectators from as far away as New Jersey and having drawn racers from as far away as New Zealand.
Partially bordered by the Hampton Roads harbor and Chesapeake Bay, Hampton, with the 344,000 sq. ft. Hampton Roads Convention Center, is located in the center of the Hampton Roads metropolitan area. Hampton is the site of America's first continuous English-speaking settlement and is home to such visitor attractions as the Virginia Air & Space Center and Riverside IMAX ® Theater, Hampton History Museum, harbor tours and cruises, Hampton University Museum, Fort Monroe, award-winning Hampton Coliseum, and The American Theatre, among others. Hampton was twice-named All-America City, the nation's oldest and most prominent community recognition award.
###