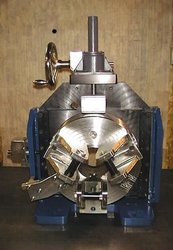 It's time to take a look at cost-saving products
Mentor, OH (Vocus) June 17, 2010
Take just a moment to analyze your current weld box. Is it costing you time and money to continuously calibrate and adjust it to provide a good weld seam? Is it a difficult to set up?
Consider the following points, which apply to "standard" and "chuck-style" tube and pipe three-roll weld boxes:

Clevises and weld roll shafts made from 300-series stainless steel will substantially reduce energy absorption for high-frequency (HF) welding. This can reduce your energy consumption by as much as 30%. To visualize your benefit, determine the monthly HF energy consumption rate for your mill and apply the cost savings accordingly. Along with increased energy efficiency, you will also have a better quality weld, since the HF power is more directly applied to the strip edges for welding, which can save scrap costs.
Quick-change clevises, along with spare clevises, can save changeover time in the area of the weld box by 50%. This is a substantial savings, when applied to your hourly tube and pipe mill rate, which can range from $500 to $1,000 per hour.
A new Roll-Kraft weld box will have the mechanical integrity to hold the setup in place. Compared to a worn out unit, you will save valuable mill time. How much time do you spend fighting with worn parts that are hard to assemble or adjust, in order to get the final results you want? Estimates show this alone could take 1-2 hours. Eliminating this wasted time and the potential scrap costs involved will further justify a new weld box unit for your operation.
The cost savings, thus far, could be over $5,000 to $10,000 per changeover.
Additional Benefits:
Using Rohm chucks, the three-roll "chuck-style" weld box can adjust all three clevises simultaneously, providing convenience and saving additional time. Most standard, less expensive chucks require adjustment of each clevis individually, which is time-consuming and less cost-effective.
The three-jaw chuck allows symmetrical in-and-out adjustment of all three weld rolls on center. The convenient hex adjustment mounted in support bearings, along with a heavy-duty U-joint with needle bearings, allows easy adjustment from the operator's side. Standard three-roll weld boxes that incorporate individual adjustments can take three times longer to adjust in order to obtain the desired weld results. Apply your hourly mill rate to determine your savings and also consider the reduction in scrap by avoiding trial-and-error adjustments.
For more information on the three-roll weld box, use the on-line Dr. Resolve tool to contact Roll-Kraft or send in your inquiry by phone, fax, or e-mail. Our team is ready to provide the design that will meet your specifications. "It's time to take a look at cost-saving products," said Chuck Gehrisch, President of Roll-Kraft. The three-roll weld box can be that for you.
About Roll-Kraft:
Roll-Kraft is a leading provider of services, tooling, and equipment to the tube and pipe and roll forming industry. Participation and reliance on the well-earned ISO 9001:2000 quality management certification program has helped customers in more than 50 countries identify Roll-Kraft as a reliable source of high quality products and programs.
Roll-Kraft has its headquarters in Mentor, Ohio, and maintains offices in Frankfurt, Illinois (Roll-Kraft Northern) and Woodbridge, Ontario, Canada (Roll-Kraft Ltd.). The headquarters facility can be reached by phone at (440) 205-3100, or fax at (440) 205-3110. More information about Roll-Kraft products and services is available on the website, http://www.roll-kraft.com.
###