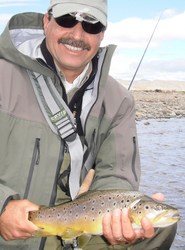 "I've fished with him and have watched him with clients many times. Joe is the consummate professional fishing guide--he's fun, interesting, patient, and knows the water like he knows his own back yard." Tom Rosenbauer
Milford, PA (PRWEB) June 18, 2010
For over twenty years the Orvis Company has located and researched the best fly-fishing operations in the most exceptional fishing areas of North America.
This year, Orvis has named Capt. Joe Demalderis their 2010 Freshwater Fly Fishing Guide Of The Year. An Orvis Endorsed Fly Fishing Guide for more than a decade, Joe Demalderis guides on the Upper Delaware River on the NY & PA border. He can also be found seasonally in other fisheries in the US and abroad.
Endorsed fly fishing guides are highly skilled in setting you up in the country's best fisheries in the right spots with the right gear to make your fishing experience the best it can be. These operations are continually reviewed by the Orvis staff and evaluated by visiting guests in post-visit critiques sent directly to Orvis.
Not just clients, but industry experts and professionals have high praise for Joe. Tom Rosenbauer, an author of more than seven fly fishing books had this to say: "I've fished with him and have watched him with clients many times. Joe is the consummate professional fishing guide--he's fun, interesting, patient, and knows the water like he knows his own back yard. I would recommend him without hesitation..."
Joe Demalderis, "Joe D." as most know him, has been fly fishing for more than four decades. His home waters, the Upper Delaware River System is a world class wild trout fishery offering the fly fisherman a challenge not typically found in the eastern US. For more than thirty years Joe D. has fished this river. Two decades ago he turned his passion into a full time fly fishing career. His concern for the river has prompted him to take an activist role in protecting this special fishery. He recently accepted a Board of Director's position on Friends of the Upper Delaware River, the leading non-profit conservation organization for the region.
Joe has appeared in several fly fishing magazines and has been acknowledged in several books including The Fly Fishing Guide to the Upper Delaware River.
When not on the Delaware Joe can be found on his 23' HydarSport center console chasing the inshore sport fish of the North Jersey coast. In the winter Patagonia becomes his favored destination hosting trips to both Chile and Argentina. He can be reached via his website: FlyFishTheDelaware.com
###