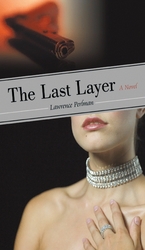 Wilson, WY (Vocus) June 18, 2010
When one of the victims of a daring jewelry heist in the heart of Paris turns up dead, Senior Inspector Gerard de Rochenoir realizes this will be no ordinary investigation. The Last Layer (published by iUniverse) by Lawrence Perlman, is a murder mystery that charts a course to exotic locales around the world before finally revealing a resolution.
When Gerard's investigation takes him to the island of St. Barth's, he crosses paths with Sofia Mostov, a striking international jeweler with a mysterious past. Assisting Gerard is Pierre Abou, whose stunning discovery at a farmhouse on the Brittany coast leads the team to two more murders. As they learn more about these crimes, they soon discover that Sofia is not only beautiful but also very dangerous.
Muddying the waters further is the American insurance company that also has a stake in seeing these jewelry robberies solved. Leading this facet of the investigation is insurance executive Catherine York. Although she is 20 years his junior, Catherine and Gerard soon embark on a passionate relationship that presents its own set of complexities.
Eventually, Gerard and Pierre form an uneasy working relationship with Catherine and her boss Nick in order to solve the case. As they learn to work together across the borders and cultures that separate them, they slowly begin to uncover the international criminal enterprise behind these crimes.
Readers will enjoy this expansive mystery that hops from St. Barth's to Cuba, from New York to Mexico City, and even lands briefly in Rome and the Amalfi Coast of Italy. And in the end, Perlman's exploration of interpersonal relationships is almost as interesting as whodunit.
About the Author
Lawrence Perlman is a graduate of Carleton College and Harvard Law School. After practicing and teaching law in Minnesota from 1964 to 1975, Perlman served as a business executive for various companies and a board member for over 20 corporations. In 1999 and 2000, he was appointed by the President to serve as the chairman of the Congressional Commission on the 21st Century Workforce. Now retired, Perlman lives with his wife Linda in Jackson Hole, Wyo., where he enjoys writing, fly fishing, riding horses, hiking, travel, golf and upland bird hunting.
iUniverse is the premier book publisher for emerging, self-published authors. For more information, please visit http://www.iuniverse.com.
###