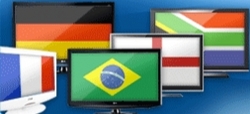 Howden, UK (PRWEB) June 17, 2010
Ebuyer.com, the leading online electronics retailer is preparing for the World Cup with huge offers on a selection of products including TVs from £154.99 for a 19" Samsung TV.
The online retailer, which celebrates its 10th anniversary this year, is helping football fans who will be cheering on England from the comfort of their own home this year by offering a huge range of top quality cheap TVs, so they can catch all the detail of every match.
The company's 42" TVs are available from £424.98 for a plasma LG HD TV with freeview. For viewers entertaining friends and family during the tournament, Ebuyer's projectors start from less than £300.
Ebuyer customers will also find football accessories such as iPhone cases in their favourite team colours and a range of discounts on surround sound speakers, TV tuners and digital TV recorders, as well as in car entertainment for customers on the move during match time.
Operations Director Armando Sanchez, said: "I'm from Mexico so obviously I'll be keeping a keen eye on both Mexico and England, but I'm delighted that we're able to offer customers some great deals in preparation for the World Cup."
For more information about Ebuyer's World Cup deals, visit http://www.ebuyer.com/.
About Ebuyer
Ebuyer.com is the leading online electronics retailer with the best prices and exclusive offers on over 19,000 quality products.
Founded in 1999, Ebuyer has supplied over 40 million products from its 280,000 square feet, state-of-the-art facility in East Yorkshire. Its easy-to-use website and automated order system that dispatches thousands of orders to over 3 million registered customers every hour ensure customers save time and money.
Customers can now place orders up to 11pm for next day delivery and at the weekend for Monday deliveries.
# # #