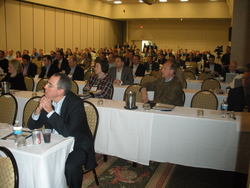 "Nowhere else will middle market M&A professionals find the convenient combination of idea exchange among peers paired with the ability to network and source deals" said the Conference Chair, Brent Rippe of Rippe & Kingston Capital Advisors
Chicago, IL (PRWEB) June 18, 2010
The Alliance of Merger & Acquisition Advisors® (AM&AA), the leading association and credentialing body for middle market M&A professionals, will hold the association's 12th annual Summer Conference; July 20-22, 2010, at the Hilton Chicago in Chicago, Illinois.
The event will feature two full days of education from industry experts on issues related to the current financial climate. In addition, the conference will include an enhanced and extended, day-long Transaction Exchange. Hundreds of leading intermediaries, investment bankers, attorneys, private equity professionals, CPA's, business advisory firms and corporate development professionals are expected to participate.
Featured speakers include Ryan Branon and Bill Spizman of RSM McGladrey, Inc., the Premier Conference sponsor, speaking on "The Key Steps Towards Getting a 'Quality of Earnings Report' ".
"Since its founding 12 years ago, AM&AA has provided its members with superior educational value, including the ability to earn recognized credentials, such as our Certified Merger & Acquisition Advisor® (CM&AA) credential. These programs provide our members with the necessary certifications to excel in the transactional advisory business and achieve the highest recognized standards of professional excellence," said Michael Nall, Founder of AM&AA.
"With the Transaction Exchange at our Summer Conference, we offer our attendees an efficient, well-organized platform where buyers and sellers of businesses can meet to find and complete deals. I expect to see much private equity capital put to work at our summer conference, July 20-22."
The Transaction Exchange will feature a full day of networking between private equity professionals and intermediaries on Thursday, July 22th. That afternoon at the Deal Bash, Intermediaries and Investment bankers' attendees will be given the chance to present their transaction opportunities. Opportunities of all types will be showcased as deal makers meet with private equity and mezzanine players in this highly interactive, efficient exchange.
To view the AM&AA Summer Conference Brochure, please visit http://www.amaaonline.com/node/2514.
About AM&AA
The AM&AA is the leading association and credentialing body for middle market M&A professionals. Our leadership and people have unrivaled multidisciplinary expertise in the financial services industry. AM&AA members represent sellers and buyers of businesses ranging from $5 to $500 million in transaction value. Their services are seller representation, buyer representation, due diligence, accounting financing, business valuation, tax planning legal, strategic, other advisory and transaction services. The AM&AA offers members a solid platform for professional collaboration.
###