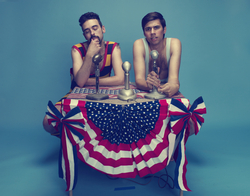 "The Wade Brothers' unique vision and style is what drew us to them initially, their mind for commercial artistry is what made us choose them as a partner, and their eye for the absurd is what will help make this year's Webby campaign one of th
Brooklyn, NY (PRWEB) June 16, 2010
Monday 14th June saw the Internet world head for Cipriani's in Manhattan, New York to celebrate all that is innovative, wonderful and free about the Internet at The 14th Annual Webby Awards.
2010 also saw directing duo and world-renowned photographers - The Wade Brothers - being asked by Webby's agency Tribal DDB to create all the motion and still photography elements for the global marketing campaign, with the motion piece (about an absurd "fight" between two very unlikely characters) being shown in segments throughout the evening, and the stills being used throughout all print and online promotion for this years' event - an evening that featured a myriad of stars including Jimmy Fallon, Roger Egbert, Ne-Yo, Isabella Rossellini, OK-GO!, Lisa Kudrow and co-inventor of the Internet - Vinton Cerf among many others..
Meanwhile, Pete Johnson Creative Director at Tribal DDB Worldwide comments:
"The Wade Brothers' unique vision and style is what drew us to them initially, their mind for commercial artistry is what made us choose them as a partner, and their eye for the absurd is what will help make this year's Webby campaign one of the most memorable in their 14 year history."
Working out of their own studios, The Wade Brothers are spearheading the concept of 360 services, delivering every asset for a campaign often from a single shoot, thereby offering clients significant savings in time and money.
"We did it all in the same production, with the same talent and crew and costumes," affirmed Lyndon Wade,
The Wade Brothers also finished a minute-long intro, three 30-second spots, and another minute-long ending. And all the print material was put into a book and used as marketing beforehand and as a show program."
As for the concept, he elaborated: "It is the battle of absurdity, staged in an old, vintage grade school. There's a really dramatic intro, a training montage like you would see in 'Rocky' We parody a lot of stuff, a lot of traditional training elements, but we put our own twist on that.
Then, it's almost like different episodes throughout the show, and in the finale we get to see who wins.
See the film here: http://www.youtube.com/watch?v=8iemIT9rmtw
###