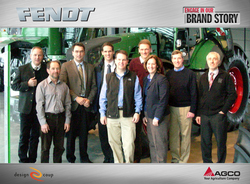 When you include AGCO, we're actually managing five brands
Atlanta (Vocus) June 17, 2010
Design Coup, a strategic branding and creative agency, was chosen by AGCO Corporation, a leading global manufacturer of agricultural equipment, to lead its worldwide marketing teams in Brand Story Workshops from January to June, 2010.
The purpose of the events, hosted in Suolahti, Finland; Beauvais, France; Marktoberdorf, Germany; and Duluth GA, was to build brand platforms across multiple brands and countries with a common, consistent structure.
AGCO's four global brands – Challenger, Fendt, Valtra and Massey Ferguson – are among the most trusted and respected tractor brands in the world. Each brand has enjoyed its own long history and legacy, 160 years in the case of Massey Ferguson. The Brand Story workshops were designed to introduce a new level of synergy to how the brands work together.
"We took each brand team through an identical Brand Story process," said Michael Higgins, a principal of Design Coup and leader of the sessions. "Each brand produces powerful and reliable machinery with advanced technology and features. Our goal was to identify the distinctive DNA at the core of each brand and build the brand platform around a key brand concept."
Design Coup used its "Brand Story" approach to help participants experience the creative genesis of a brand. "Brands and Stories are very similar," explained Design Coup's Bruce Miller, who helped develop the course content. "We connect with our favorite brands in the same way we identify with a character in a story. Brands and stories both create emotional experiences where we project something of ourselves onto the brand or character."
"When you include AGCO, we're actually managing five brands," explains Sue Otten, AGCO's Director of Corporate Marketing & Brand Communications Worldwide. "As our brands expand from their regional roots and continue to grow worldwide, it becomes increasingly important that our brand platform can be readily implemented by anyone in the world. These workshops gave each of our brand managers a structured approach from which to develop local messaging that's in accord with our global brand strategy."
At the conclusion of the workshops, each team worked collaboratively to conform its brand platform to the new structure and refine its core components. The platforms will become the basis for implementing AGCO's brand vision moving forward.
About Design Coup – Design Coup, a strategic branding and creative agency, creates marketing/design communications for leading organizations, including manufacturers, healthcare companies, franchise systems, and other business ventures. Located in Atlanta, GA (Decatur), Design Coup has been in business since 1998. For more information about Design Coup, visit DesignCoup.com
.
About AGCO – AGCO, Your Agriculture Company (NYSE: AGCO), was founded in 1990 and offers a full product line of tractors, combines, hay tools, sprayers, forage, tillage equipment, implements and related replacement parts. AGCO agricultural products are sold under the core brands of Challenger®, Fendt®, Massey Ferguson® and Valtra®, and are distributed globally through more than 2,700 independent dealers and distributors, in more than 140 countries worldwide. Retail financing is available through AGCO Finance. AGCO is headquartered in Duluth, Georgia, USA. In 2009, AGCO had net sales of $6.6 billion. Visit AGCOcorp.com for more information.
Contact:
Bruce Miller
Design Coup, Inc.
404-378-9029
DesignCoup.com
###