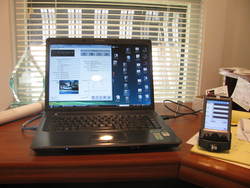 Manasquan, NJ (PRWEB) June 21, 2010
Since the invention of the Kodak roll film camera in 1888, engineers, inspectors and professionals have used a camera and a clipboard to collect information and build reports with photos. The Polaroid camera helped in 1963 and Mobile Data Photo Capture automates this process in 2010!
To date, millions of inspections and assessments have been completed with the existing camera-clipboard approach. "Cut and paste" of photos and data entry spans generations from writing on the first photos with grease pencil to the copy machine version of the 60's, 70's and 80's and on to the right mouse click and paste - excel entry functions of today's office.
The applications we introduce provide instant Data-Photo Capture capability on all types of Windows Mobile devices. These produccts enable the user to collect information by toggling from camera to data template, taking photos and gathering facts all at once, on one handheld.
The patented DATA-PHOTO Report is the future of documentation technology.
The idea of building applications that toggle from camera to data collection template on a handheld device came from necessity...... not a business plan. We offer business and industry the opportunity to customize and automate centuries old functions with the most unique and useful data photo collection capability ever seen. Patented in 2002,, spending the past 7 years enhancing and perfecting delivery of customized data photo collection products. A full line of stock and customized versions fof Data Photo Capture applications for all types of uses is available - Inspections, Safety, Security, Damage Claims, Construction Management, Homeland SEcurity, Environmental Documentation, Due Diligence, Inventory, Recordkeeping, Work Order, Quality/Performance Audit, Job Application, Building Inspection, NFPA Inspections, OSHA Inspections, Accident Reports and all types of tasks that use to require a cemera, a clipboard followed by cut & paste and typing in data! Mobile Data Photo Capture runs ons Windows Mobile and have products installed on hundreds of different types of handhelds with a camera - cellphone or not!
Please visit http://www.mobiledataphotocapture.com to see how data photo capture can change your business and lead your industry to the next level.
###