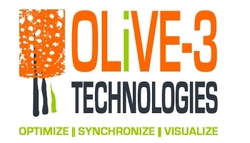 "webOps TMM™ powered by Microsoft Dynamics AX is the next stage of evolution in world class manufacturing management"
Los Angeles, CA (PRWEB) June 18, 2010
Olive-3 Technologies, provider of the revolutionary webOps TOTAL™ Supply Chain and Manufacturing Operations Management solutions, today announced the general availability of webOps TMM™ powered by Microsoft Dynamics AX.
webOps TMM™ is designed based on "usability", "affordability" and "supportability" principles to help mid-size manufacturers reduce manufacturing costs, improve throughput and increase agility by integrating production, maintenance, quality and inventory management processes. Beyond the integration of individual elements of manufacturing, webOps TMM™ introduces advanced optimization, synchronization and visualization components, leveraging Olive-3's proprietary Hierarchical Neuro-Fuzzy decision engine (HNF), Comparative Data Clustering (CDC) and Fast Approximate Performance Imaging (FAPI) technologies that were developed as part of a SBIR (Small Business Innovative Research) project sponsored by Missile Defense Agency.
webOps TMM™ delivers on the long-anticipated promise of bridging the gap between the enterprise and plant floor to help mid-size manufacturers to become world class organizations. This is made possible with a combination of state-of-the-art technology and innovative architecture that delivers Total Manufacturing Management capabilities on Microsoft Dynamics AX according to the ISA-95 standards. "Our entire product development and technology commercialization strategy is built upon Microsoft Dynamics AX, because of its flexibility, scalability and security." says Ali M. Aksut, President and Founder of Olive-3 Technologies. "This gives us the ability to focus on rich functionality and user experience for supply chain and manufacturing operations management, without worrying about issues like data access, security model, platform integration, etc. A lot of business software vendors struggle with those issues that significantly increase the cost of developing and supporting software. World's largest software vendor is already taking care of those fundamental software challenges in an integrated fashion. This gives us the ability to deploy very affordable solutions whether you use Microsoft Dynamics AX or not. Leveraging the economies of scale crated by this approach, we can pass the development and software support savings on to customers."
"Olive-3 plays a key role in Microsoft's overall business solutions strategy of delivering vertical specific, comprehensive solutions that generate fast ROI for customers," said Bob Aronson of Microsoft, [Industry Market Development Manager, North America Dynamics – Manufacturing]. "With Microsoft Dynamics AX, Olive-3 can deliver best-in-class and affordable solutions to the mid-market."
Olive-3 has strong relationships with customers who have benefited from their Hi-Tech industry knowledge and supply chain and manufacturing operations management expertise including Skyworks Inc., Microsemi and Microchip.
Olive-3 made the announcement during the "Total Manufacturing Management" webcast on 6/8/2010. Olive-3 will also be presenting webOps TMM™ to local mid-size manufacturers at Microsoft Technology Centers in Phoenix, AZ (6/29/2010) and Mountain View, CA (7/28/2010). The current release of webOps TMM™ include the the following editions:

webOps TMM™ – ERP Plus Edition
webOps TMM™ – Plant Floor Edition
webOps TMM™ – Enterprise Asset Management Edition
webOps TMM™ – Total Productive Maintenance Edition
webOps TMM™ – Total Quality Management Edition
webOps TMM™ – Manufacturing Intelligence & Analytics Edition
About Olive-3 Technologies
Olive 3 Technologies is the provider of the evolutionary webOps TOTAL™ Supply Chain and Manufacturing Operations Management solutions. Leveraging decades of supply chain and manufacturing solution implementation expertise, and proprietary advanced decision support technology, Olive-3 designed webOps TOTAL™ suite ground up based on the vision to deliver 'usable', 'affordable' and 'supportable' solutions to mid-market. The innovative architecture built around Microsoft Dynamics AX creates further economies of scale, and enables Olive-3 to offer webOps TOTAL™ solutions with a low total cost of ownership that generates fast ROI for its customers. Olive-3's customers include Skyworks, Microsemi and Microchip.
For more information about webOps TOTAL™ and Olive-3 Technologies please call 888-723-3280, or contact: info(at)olive-3(dot)com.
Copyright© 2010, Olive-3 Technologies, LLC
# # #