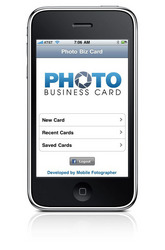 I can create a mini-portfolio business card on the fly.
Portland, OR (PRWEB) June 17, 2010
photographers Andrew "Fundy" Funderburg and Kevin Focht (owners of Left Turn Studio and Mobile Fotographer) have just released "Photo Business Card App". This easy-to-use app let's you create a photo-collage business card on the fly with up to three photos. It takes just a few seconds to create a business card, then it can be shared via email or posted to Facebook with just a few clicks.
When asked why they created such an app, Fundy quickly replied, "To be honest, it's because I'm always forgetting my cards. I'll be out shopping or something and meet a potential client, reach for my card and, well, you know. I don't have any."
Focht chimed in, "and we wanted something that not only sent our info to our potential clients, but also encouraged them to click on the links that were automatically embedded in their email or on Facebook. Instead of getting a card that they'll stick in their pocket, they'll get an email with live links to click on. And we can also follow up later with another email."
The app is designed with a very clean interface, with usability in mind. You can add your logo to your card with just two clicks. You can choose from 8 preloaded backgrounds, which are tastefully designed or add your own. The makers of Photo Business Card App recommend designing backgrounds that are 640x480px.
When asked how to get your logo or backgrounds on your phone, Fundy said, "Well, that's the best part, you just email them to yourself. When the email comes through, just touch and hold on the image and save them to your photo library." Photo Business Card App recommends using a transparent PNG for your logos, as they'll look nicer on the backgrounds.
Having sold over 100 apps on the first day of the release, Focht and Fundy are extremely excited about the feedback so far. Photographers are excited not only about the ease of use when forgetting a business card, they are also excited about other business possibilities. One professional photographer noted that he could use it to give out special coupons or discounts when he meets someone. Another photographer noted that since she is emailing her card when she meets someone, she has the ability to follow up with another email to keep communication going between her and her client.
Finding it odd that there was no other app like this on the app store, Focht and Fundy are happy to have found a way to add value to professionals wanting to connect to their client base in a new and innovative way. You can see more information on the Mobile Fotographer website or see the app in Apple's iTunes App Store.
###