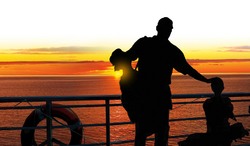 We consider this an opportunity to say thank you to our loyal customers for supporting us
Charlottetown, PE (PRWEB) June 18, 2010
Northumberland Ferries Ltd. is happy to announce that they now offer free Wi-Fi service to their customers. Effective immediately, access to the service will be available throughout the public area of the ferry terminal in Wood Islands, Prince Edward Island at no cost to users.
The decision to provide the service at no cost is attributed to listening to the feedback from customers and the desire to provide value added services to customers. "Now Northumberland Ferries covers the Strait wirelessly. Our customers asked for it and we are delighted to provide this added service at no additonal cost." said Jeff Gaudet, Director of Technology and Marketing Programs of NFL Ferries Ltd. "We consider this an opportunity to say thank you to our loyal customers for supporting us and to encourage others to take the ferry as a viable travel option".
Jeff Gaudet, Director of Technology and Marketing Programs of NFL Ferries Ltd. is pleased with the addition of the new technology saying, "We understand a number of tourists haven't booked their accommodations prior to crossing on the ferry and this will give them the opportunity to review their options while enjoying a sailing experience on one of our ships or while in our Wood Islands terminal."
Future wireless locations will include the ships and the Carbiou, Nova Scotia Terminal, making Northumberland Ferries Ltd. Wi-Fi friendly.
Northumberland Ferries Ltd. has been providing memorable experiences since 1941.
There are three ways to get on board; book your reservation online, purchase an Assured Loading Pass from one of our retail partners, or just show up at the terminal. Call Northumberland Ferries Ltd. at 1-877-635-SAIL (7245) or visit http://www.peiferry.com to learn more.
# # #