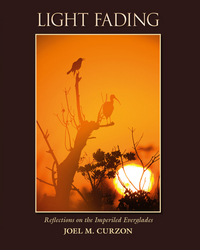 "This is a powerful book, a powerful evocation of the startling majesty of the Everglades, " says Ken Burns, award-winning documentary filmmaker.
Portsmouth, NH (PRWEB) June 18, 2010
The immense oil spill now threatening Florida was caused by problems far more broad-reaching than even the gigantic petroleum industry, according to the author of an award-winning new book about the Everglades. "The real problem is the entire concept of economic growth," says Joel Curzon, a former lawyer who gave up legal practice to pursue nature photography as a tool for environmental activism. "As long as we continue to believe that the economy must constantly grow, we will inevitably continue to destroy our environment." Curzon will speak at Busch Wildlife Sanctuary in Jupiter on Friday, July 16, and at the Arthur R. Marshall Loxahatchee National Wildlife Refuge on Sunday, July 18.
In Light Fading: Reflections on the Imperiled Everglades, Curzon argues that the current "wise growth" movement is nothing but a fig leaf for land developers who continue to degrade the environment while adopting the language of environmentalism. "The so-called compromise between business and environmentalists is no compromise at all," says Curzon. "We have already permitted far too much environmental destruction, and anything short of a total halt on additional development means that we still endorse it." Instead, Curzon argues, the US and the world need to adopt new worldviews – new philosophies of existence – that place the importance of the world's ecosystems at or above the level of its economic systems.
But instead of lying down in front of bulldozers or working for a nonprofit to change attitudes, Curzon does his bit for the environment by acting as its publicist. In his book, he uses gorgeous color photography to drive home the beauty and diversity of life in the Everglades and make the point that it is too intrinsically valuable to waste. "My hope is that even the most environmentally disengaged individual will be impressed by the beauty of the Everglades," says Curzon. "From there, it's not such a long stretch to argue that it should be maintained."
In addition to addressing the irreconcilable conflict between environmental protection and economic growth in his presentations at Busch Wildlife Sanctuary and the Arthur R. Marshall Loxahatchee National Wildlife Refuge, Curzon will discuss his photography and show images from his book. Light Fading won an award for best regional nonfiction from the Independent Publisher Book Awards.
Author photographer Joel M. Curzon will present the talk "Listening to the Everglades: Reality, Humility and the End of Growth" at Busch Wildlife Sanctuary, 2500 Jupiter Park Dr., Jupiter, FL, on July 16 at 6:30 p.m. Call (561) 575-3399 for more information. He will also speak at the Arthur R. Marshall Loxahatchee National Wildlife Refuge 10216 Lee Road, Boynton Beach, FL, on July 18 at 2:00 p.m. Both events will be followed by fundraiser book signings. Call (561) 732-3684 for more information.
###