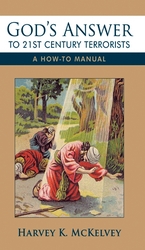 Great Falls, MT (Vocus) June 18, 2010
In his new guidebook to secure against terrorism in all its forms God's Answer to 21st Century Terrorists: A How-to Manual (published by Trafford Publishing), debut author Harvey K. McKelvey gives readers everywhere the information necessary to identify terrorists of the past and those of the present, exposing their actions and brutality as well as their total disregard for decency and compassion, while recommending counter actions to help correct or stop their destructive intentions before they indeed wreak their havoc on the public.
Just as terrorists are resolute to accomplish their underhanded, nefarious goals, so must you be committed to antiterrorist behaviors and understanding, and there's where McKelvey's masterful historical and practical manual comes into play. Now's your chance to restore the eye sight (not unlike how Saul was restored to sight by a fearful Christian leader named Ananias after he was blinded by the light of Christ when he was sent to Damascus to persecute and bind every Christian) and learn how to become the most sensitive, compassionate, loving and vocal individuals for all law-abiding citizens in your community with the principles outlined here.
By simply reading (and grasping) the information in God's Answer to 21st Century Terrorists, you can gain the protection you desire as potential victims of terrorist acts. You can also implement a strict measure of containment for perpetrators and even request acceptance into society after the arrest and positive response (conversion) of the would-be terrorist, who should now be a loving and law-abiding citizen (Christian).
Terror-proof your home, your children, your family members, your business and your community church, and change the mindset of terrorists at the same time by reading, observing and following the instructions outlined in McKelvey's daring and insightful roadmap to peace, God's Answer to 21st Century Terrorists, a book that promises to clearly give readers a foolproof, positive response to counter evil menaces wherever they arise.
About the Author
Born in 1929 in Colorado to a Christian family, Harvey K. McKelvey has endured agonizing hours of hearing about the innocent people of the world brutalized by tyrants and powerful people who do not seem to care about their citizens. He worked in the U.S. Air Force for four years before he was discharged. He then worked for the National Parks Services, Qwest and Western Electric, where he supervised construction in Nigeria for 11 months. After he retired, he prayed for the arrest of terrorist activities that troubled him, which in turn brought about God's Answer to 21st Century Terrorists, McKelvey's first official publication.
Trafford Publishing is the premier book publisher for emerging, self-published authors. For more information, please visit Trafford publishing.
###