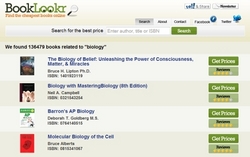 I saved about $350 this last semester alone on 3 textbooks.
Jamesville, NY (PRWEB) June 24, 2010
For anyone who has struggled to find cheap books or a lower price online for an expensive college textbook, BookLookr.com is here to help. Recently their new addition of textbook rental services is helping to increase savings for its users. The comparison shopping website is also announcing they've helped a record number of college students and book lovers find lower prices on their required books and helping to relieve some of the financial pain that comes along with a college acceptance letter.
The average college student is responsible for $3,600 worth of textbooks during their school career and the average book worm can spend up to 10 times as much on books during their lifetime. Since more and more people want to buy books online to save money, BookLookr.com is helping to make the process easier and cheaper for students who want cheap textbooks or book lovers who want to save a few bucks on the latest new release.
BookLookr.com (pronounced "book looker") launched in August 2009 to help college students and book lovers find the lowest possible prices on their books. The site works by searching the user submitted ISBN, author name, book title or keyword and pulling up multiple results along with thumbnails of the book cover.
After the appropriate title is found the user simply clicks "Get Prices" to fetch the lowest prices from the internet's top book retailers like Amazon.com, Chegg and Better World Books. The site offers users a fun and effective way to find cheap books and read the latest reviews on their selected titles.
The response from users who use the service to find cheap college textbooks has been especially positive. Students across the United States are saving several hundred dollars on a typical semesters worth of required books. If the average student uses BookLookr.com every semester throughout their college career they can save well over $1,000 on their books. Recently the service offered users the ability to search textbook rental services like Chegg and BookRenter, allowing students to rent books for a mere fraction of their cover price.
Avid readers and students are taking full advantage of the site and actively telling others about it. Students at Harvard University and Rochester Institute of Technology have said about the site, "BookLookr.com is the only book comparison site I use" adding, "I saved about $350 this last semester alone on 3 textbooks." Teachers and professors are also recommending the service to their students via newsletters and syllabi—making having multiple required textbooks not as guilt-inducing as it used to be now that discount textbooks are available through the site.
One of the best advantages to using BookLookr.com to buy college books or personal reading books like novels or non-fiction books is the fact that there is no limit to what visitors can shop for. The site isn't limited to just cheap college books. Whether the user is looking to search for Shakespeare's Hamlet, Stephen King works, J.K. Rowling, Dan Brown, or Terry Pratchett there is no trouble at all finding the titles that are required. There are available titles on virtually every available title. As long as mega-bookstores online like Amazon and Half.com have the titles users will be able to cross compare prices with a quick at-a-glance and even view reviews if there are any available.
About BookLookr.com:
BookLookr.com (pronounced "book looker") was launched in August 2009 and has a growing user base of college students and avid book readers. The website's CEO and owner, Andrew Maule, is a former college student who created the website to help others save money and get the books they need. For media inquiries please email andrew (at) booklookr.com
# # #