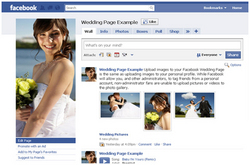 Facebook Pages are exciting and versatile, which is why they are the perfect interface for wedding planning.
Fort Lauderdale, FL (PRWEB) June 17, 2010
Attention all future brides: social media is calling! Storkie Express, the online retailer of high quality wedding invitations and bridal shower invitations, has proudly published a comprehensive guide for the newly engaged to create a Facebook Page devoted entirely to their weddings. How to Facebook Your Wedding provides step-by-step instructions to create, customize, and update a Facebook Wedding Page that anyone, Facebook newbie or veteran, can follow.
Developing How to Facebook Your Wedding was a no-brainer for David Gudai, Vice President of Marketing at Storkie. "A huge percentage of couples already have personal Facebook profiles," he explains. "It is tempting and convenient to start using that profile when planning a wedding. You can ask friends for advice, update guests on big decisions, and make plans for the bridal shower. Before you know it, your Facebook profile is overrun with wedding plans. That's where our new guide is helpful."
Starting with the basics of creating a Facebook Page, How to Facebook Your Wedding continues by explaining some of the features a Facebook Page has that individual Facebook profiles and Facebook Groups lack, as well as recommending a variety of wedding-friendly Facebook applications. "Facebook Pages are exciting and versatile, which is why they are the perfect interface for wedding planning. FBML [Facebook Markup Language] is my favorite feature because it allows users to totally personalize their Facebook Wedding Page," says Gudai. Some of the other features a Facebook Page for your wedding offers include customizable tabs and boxes, landing pages, and a blog feed.
"Facebook is constantly changing and growing," Gudai explains. "With those changes come new opportunities. This guide is groundbreaking, and takes advantage of all Facebook has to offer. We are excited to see where How to Facebook Your Wedding goes."
How to Facebook Your Wedding is available on the Storkie Express website. To view How to Facebook Your Wedding, click here. To view Storkie's Wedding Page Example on Facebook, click here.
About Storkie Express:
Storkie Express is a web-based invitations company, providing customers with quality, affordable, custom printed invitations since 1990. Storkie Express has a broad selection of beautiful invitations and cards for every special event. With extensive collections of baby shower invitations, graduation party invitations, wedding invitations, bridal shower invitations, birthday invitations, and much more, Storkie is sure to have the perfect announcements for any event. Storkie's iDesign makes personalizing an invitation easy and fun, while professional typesetters review each and every order for that extra quality assurance. At Storkie Express, customers can easily design and order beautiful, high-quality printed invitations at the best prices and with the fastest turn-around time in the industry.
# # #