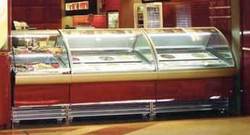 Greensboro, NC (PRWEB) June 18, 2010
Advanced Gourmet is pleased to announce the launch of their newly redesigned website featuring a modern, user-friendly layout and offering a wider selection of gelato and ice cream supplies and equipment. Advanced Gourmet is a proud distributor of ice cream and gelato equipment brands such as: Pacojet, Mixgel. Electro Freeze, TechFrost, among many others.
The new site provides users with a comprehensive overview of products ranging from ice cream and gelato display cases to spoons and ice cream cups with an inviting format. The new website makes it easy for users to purchase ice cream and gelato supplies and equipment.
About Advanced Gourmet Gelato and Ice Cream Equipment
Advanced Gourmet Equipment & Design is a national company that provides start-up support to retailers, and a provider of high-performance, top-quality equipment and services to the food industry, focusing on the frozen dessert sector.
Throughout their careers, the owners have worked with chains like Cold Stone Creamery, Marble Slab, Maggie Moos, Bruesters, Hard Rock Café, and many individual start-up retail shops. For more information, visit http://www.advancedgourmet.com.
If you would like more information about Advanced Gourmet Gelato and Ice Cream Equipment & Design and/or would like to schedule an interview with someone from the team, please contact Jim Hall, Jim Marmion or Wally Becker at 336.644.2755 ~ 336.856.2919 or Info(at)AdvancedGourmet(dot)com.
# # #