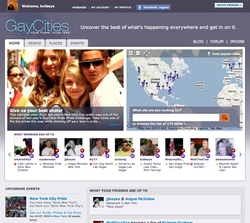 With this new launch of GayCities, we're upping the ante, bringing people together to share and uncover the best of their town
San Francisco, Calif. (PRWEB) June 17, 2010
GayCities (http://www.gaycities.com), the most comprehensive city guide and travel review community for gays and lesbians, today launched an entirely redesigned site that allows users to more easily connect and get the best experiences in the cities where they live and travel.
In 172 cities, GayCities visitors will see more local people featured more prominently, more local events, more reviews and events from their Facebook friends. In addition, users will now have the power to rank the most popular bars, clubs, restaurants, hotels and shops both locally and worldwide.
In each city GayCities selects "GayCities Insiders," members who have shown the ability to guide fellow users around their town through their reviewing and posting. These special members receive an Insider badge on their profiles, and are featured prominently on the city pages where they have produced the most reviews. New members can quickly ascend the Insider ladder by building profiles that "sing" and contributing insightful reviews of their favorite--and not so favorite--places.
"With this new launch of GayCities, we're upping the ante, bringing people together to share and uncover the best of their town," said GayCities founder and chief executive Scott Gatz. "We've focused on social interactions among your friends, insiders and locals to help you find exactly what you are looking for--or discover new things happening in real time."
The latest version of GayCities includes:

Local Events: Now users can find popular events fellow members and friends are attending. GayCities utilizes Facebook Connect to import thousands of gay friendly events.
People Search: People can search and find local members and even dig through fun profile attributes, from "bar hoppers" to "gym bunnies" to "foodies."
Most Popular Places: GayCities venue listings are now sorted by popularity, with members voting for the places they feel should be at the top of the list. What's your favorite restaurant in New Orleans? Top shop in New York? GayCities now displays them all.
GayCities has also seen its overall user base increase by close to 250 percent in the past year, highlighting the growing demand for a broad-reaching community-driven resource. According to Quantcast and Compete.com, GayCities.com is now the most trafficked LGBT travel or city guide website. With 172 city guides across the globe, GayCities not only gives users access to the most detailed information available on gay-friendly destinations, it also provides them a fun, vibrant space to share their thoughts and experiences. The GayCites app, featuring the ability to "Check-In" and comment anywhere, is consistently among the most popular travel apps in the iPhone store. Combined with the web site, GayCities reaches more than half a million unique users every month.
To view the latest version of GayCities for the iPhone or connect with users through the GayCities website, please visit http://www.gaycities.com.
About GayCities
GayCities is the place where gays and lesbians connect with each other and share what's great about the cities where they live and travel. Users contribute their own real-time experiences and discover what people like them really think about their town and cities around the world. GayCities provides reviews and up-to-date listings of gay bars, clubs, restaurants, shops, hotels and other venues in more than 150 cities via the web site and popular iPhone app. For more information, please visit http://www.gaycities.com.
###