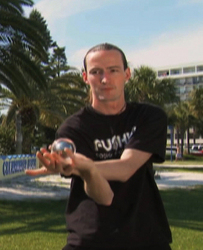 "My instincts told me the Fushigi Ball would be the next big thing but I needed a partner with a successful track record in marketing and national retail distribution to make that happen. Ideavillage simply proved the best in class."
Wayne, NJ (PRWEB) June 18, 2010
Move over Snuggies and look out X-Box because the Fushigi Magic Gravity Ball (pronounced Foo-she-ghee) is hitting the streets in a big way. The brainchild of Zoom TV Products, the 3-inch acrylic Fushigi Ball that appears to float over the body and confuse the senses of on-lookers is becoming the latest craze among people of all ages. To help meet the rapidly growing demand for the product, Zoom TV Products announced today its partnership with the As Seen On TV leader, Ideavillage Products Corporation.
Equated with other skill products like "Hacky Sack" and the "Yo-Yo", the Fushigi Ball is as fun to learn as it is to watch. Based on an obscure art form called contact juggling, the Fushigi Ball appears to defy gravity through a series of maneuvers that creates illusion and magic from the moment it is picked up. Described as therapeutic, relaxing, and even meditative, users tend to quickly learn the body movements and unique properties of the Fushigi Ball; the mastery of which can only be described as a "mind blowing" performance.
Zoom TV's John Cammarano, who stumbled upon contact juggling on the Internet, redesigned the plain acrylic balls used by performing jugglers in years past to enhance the illusion of a floating ball and improve balance and control. The result is Fushigi's chrome ball center and clear poly resin exterior.
On partnering with Ideavillage Products Corporation, Cammarano said, "My instincts told me the Fushigi Ball would be the next big thing but I needed a partner with a successful track record in marketing and national retail distribution to make that happen. Ideavillage simply proved the best in class." With demand increasing like nothing Zoom TV has ever seen, Cammarano's instincts on both product and partnership are proving right.
For more information, visit fushigiball.com