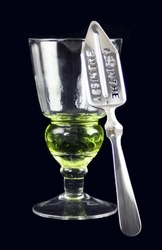 "There are many absinthe brands currently on the market," said Brian Fernald, the owner of Absinthe Devil. "We are offering a way for people to make an educated choice when they purchase their next bottle of absinthe."
Weymouth, Mass. (PRWEB) June 17, 2010
Absinthe Devil, an online retailer of hard-to-find barware products, recently completed an interesting survey that sheds light on the distinctive buying habits and preferences of American absinthe drinkers.
The 2010 Absinthe Devil survey—conducted from late March to early May 2010—polled 174 American consumers via an online self-completion questionnaire. The survey queried Absinthe Devil customers about their favorite absinthe brands and found that the most popular absinthes aren't necessarily those in broadest distribution. Lucid, Kübler, Le Tourment Vert, Pernod and St. George are in widest distribution across the United States. However, the top three absinthes among survey respondents were Meadow of Love, an American absinthe produced by Delaware Phoenix; Nouvelle Orleans, a French absinthe produced by Jade Liqueurs; and La Clandestine, a Swiss blanche absinthe produced by Artemisia Distillerie. They can be purchased at http://www.CatskillCellars.com.
The survey plays directly into Absinthe Devil's niche, as it reveals important information about the American absinthe market. Consequently, Absinthe Devil has compiled a list of the most popular absinthe brands to facilitate the selection process for consumers. "There are many absinthe brands currently on the market," said Brian Fernald, the owner of Absinthe Devil. "We are offering a way for people to make an educated choice when they purchase their next bottle of absinthe."
The 2010 Absinthe Devil survey also found the following:

The more experience a consumer has with different absinthes, the more his/her tastes change. Consumers who have only bought one, two or three absinthes tended to cite Lucid and/or Pernod as their favorite absinthes (not surprising, since they may not have tried any other absinthe). Those who have bought four or more absinthes had very different preferences. They listed Pacifique, Walton Waters, La Clandestine, Nouvelle-Orléans, Marteau, Vieux Pontarlier and Meadow of Love as their favorites. (Lucid and Pernod tend to drop out of the picture as consumers gain broader experiences.)
Absinthe drinkers are high spenders who also buy other drinks from retailers and bar. Survey respondents said they each buy more than 10 bottles of absinthe per year, not counting other spirits. In comparison, the average adult in the United States consumes around 10 bottles of spirits a year.
Absinthe drinkers mainly drink it at home, presenting the potential opportunity for bars to attract big spenders. Ninety-five percent of those surveyed said they drink absinthe at home; only 32 percent said they drink it in bars.
Respondents of the 2010 Absinthe Devil Survey primarily came from a direct mail blast to Absinthe Devil's database and to visitors to the Absinthe Devil blog. A sub-sample of consumers from the Wormwood Society, America's Premier Absinthe Association provided additional "heavy user" respondents, complementing the main sample. The questionnaire was based on the format of a 2009 survey conducted by the Absinthe Review Network.
Absinthe is an anise flavored spirit, derived from anise, fennel and wormwood. Absinthe rose to popularity in France and Switzerland starting in the mid-18th century and was enjoyed in the USA until it was banned in 1912. The spirit—commonly emerald green in color— reentered in the United States market in 2007. Since then, according to Fernald, about 70 absinthes have been approved for U.S. launch, of which about 45 have been released in the United States.
For more information, please visit http://www.AbsintheDevil.com or contact Brian Fernald at (781) 812-0122.
About Absinthe Devil
Absinthe Devil, a Saxon Enterprises company, is a unique barware company that caters to America's aficionados of absinthe and other classic cocktails. The company's Website, AbsintheDevil.com, sells a broad selection of barware, ingredients and tools, including historical reproductions and modern interpretations of absinthe spoons, absinthe glasses and absinthe fountains. The company also sells tools for the traditional French absinthe ritual, as well as Grappa fountains and cognac pipes. Absinthe Devil was founded in 2001 by Brian Fernald, a former Boston chef with a strong appreciation for fine food and drink. A privately-held business, Absinthe Devil is based in Weymouth, Mass.
# # #