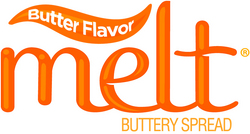 Melt is a solution for those seeking a healthier option to butter or margarine, without compromising taste.
Boise, ID (Vocus) June 17, 2010
Melt® Buttery Spread, produced by Hailey, Idaho-based Prosperity Organic Foods Inc, is slated for market growth and expansion. With new branding, packaging and the launch of a new website, the company plans to extend into new markets.
Melt is a solution for those seeking a healthier option to butter or margarine, without compromising taste. As moms and families are tired of choosing between dry toast and unflavored vegetables or using unhealthy spreads, Melt provides a rich, creamy and healthy alternative that performs exceptionally well as a spread and in baking. Its key ingredient is organic virgin coconut oil, an unprocessed, healthy oil.
Melt is Prosperity's first branded product and represents a unique consumer proposition, competing for market share in the butter and spreads category. It is made with a proprietary blend of oils that promote health, and whose benefits include; increased energy, managing healthy weight, and supporting cardiovascular health. Melt is an excellent source of Omega-3 essential fatty acids and it promotes improved metabolism. It has a rich, creamy, "melt in your mouth taste" that compares to real butter in richness, creamy texture, ease of melting and full flavor.
Melt is quickly expanding its distribution and will be available in more than 1,000 stores throughout the West; Melt is already available in stores including Whole Foods, Raley's, Albertsons LLC, Haggen/Top Foods, Sprouts and Bristol Farms.
Melt is a unique entry into the $2.7 billion butter and margarine market, with its fast-growing segment of butter and margarine substitutes.
The original product was developed by Cygnia Rapp, a research scientist who was diagnosed with multiple digestive disorders that prevented her use of butter. Her love for cooking with butter and using it as a spread lead to the creation of Melt, a healthy butter substitute. Unlike other substitutes, Melt doesn't separate during cooking and offers unique metabolism benefits that support weight control. Both retailers and target consumers have an overwhelmingly enthusiastic response to Melt.
In 2008, Rapp secured seed funding in order to successfully formulate and package the product for distribution. The website is a central launch pad for marketing the product. It features recipes, cooking tips, a blog, downloadable special offers and extensive health information.
Melt®'s Key Ingredient: Organic Virgin Coconut Oil
Virgin coconut oil (VCO) is possibly the healthiest, most versatile, unprocessed dietary oil in the world. It contains medium chain triglycerides (MCTs) that the body metabolizes quickly, converting the fats to energy rather than storing them as fat. VCO is a stable, healthy saturated fat that does NOT elevate undesirable (LDL) cholesterol. VCO has been shown to reduce symptoms of digestive disorders, support overall immune functions and help fight bacterial, viral, and fungal infections. There is a significant difference between virgin coconut oil from refined coconut oil. Refined, bleached coconut oil undergoes processing that largely destroys the benefits documented for virgin coconut oil (e.g., Nevin and Rajamohan, 2004; Dayrit et al, 2008; Marina et al, 2009; Nevin and Rajamohan, 2009). Of course, hydrogenated and partially hydrogenated coconut oil should be avoided, just as any hydrogenated or partially hydrogenated oils.
About Prosperity Organic Foods, Inc.
Prosperity Organic Foods, Inc. was founded in Hailey, Idaho by research scientist Cygnia Rapp in 2008. Melt®, a healthy alternative to butter and margarine, is Prosperity's debut product targeted at consumers who seek great taste without the health trade-off. One of its primary ingredients is virgin coconut oil, an oil that provides multiple health benefits to the consumer. Melt was initially launched with distribution limited to Southern Californian organic retail customers. Now slated for market growth and expansion, Melt will soon be available in more than 1,000 stores throughout the West.
# # #