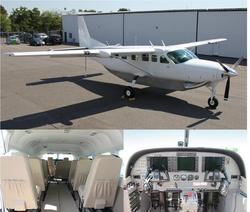 Farmingdale, NY (PRWEB) June 17, 2010
TALON AIR, New York's fastest growing luxury private jet charter company, announced today that it has added a brand new 2010 Cessna Grand Caravan to its fleet of modern business jets. The addition of this single engine turbo prop aircraft is part of the company's continued expansion to serve its customers. Talon's vertically integrated air charter fleet offers a depth of products that are the most requested in the industry.
"We needed an aircraft that was able to deliver a balance of speed and short field performance," said Jason Sanders, Senior Vice President. "The Caravan has opened up a host of small airports from Block Island to Maine. Our client's can sit back and enjoy the ride knowing the aircraft is operated by an organization that meets the industries highest safety standards and flown by a professional ARG/US and Wyvern crew."
Living up to its name, the Grand Caravan delivers exceptional performance. Cruising at speeds of up to 214 miles per hour, the Caravan is the "go-to" aircraft for both business and personal flights. With a roomy cabin and space for up to 9 passengers, you can get away with your friends and still carry a mountain of cargo.
To learn more about our aircraft management programs or to request a private charter quote on this aircraft, visit TalonAirJets.com or call 631.753.8881.
About Talon, Air Inc.
Founded in 2001, Talon Air has become New York's fastest growing boutique aircraft management company providing luxury private jet charter and maintenance services. Headquartered at Republic Airport (FRG) in Farmingdale, New York, Talon Air, Inc. is located in a brand new state of the art 100,000-sq-ft hangar and office complex. Talon continues to be an innovator in the air charter industry delivering an unparalleled level of consistency and customer service. The vertically integrated private jet fleet includes the Sikorsky 76B Helicopter, Cessna 208B Grand Caravan, King Air B200, Hawker 400XP, Hawker 800XP, Hawker 4000, Challenger 300, Legacy 600, Challenger 604 and Gulfstream IVSP private aircraft. All of Talon Air's ATP, FlightSafety and CAE SimuFlite trained pilots and factory trained A&P mechanics are Talon employees. Talon Air is Wyvern Wingman, ARG/US Platinum and an IS-BAO Registered company currently holding the highest industry safety ratings.
# # #