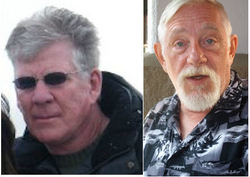 The undeniable fact that being a great writer today is no longer enough, you also have to be part publicist and an individual with iron will to succeed if you want readers to discover your work. Will these three books
Concord, NH (Vocus) June 17, 2010
Veteran Newsman, Tom Clay of KSET 1300 am radio, will be interviewing author David Hearne live at Sertinos Café, 5657 Eastex Highway in Beaumont, Texas. Clay's public broadcast are a true social encounter that provides the KSET listeners and other local residents a chance to air their complaints and concerns on the Friday morning 9 am show. The June 18, 2010, KSET show will feature David Hearne as its guest. The topic of the discussions will be Hearne's novel "Hulagu's Web – the Presidential Pursuit of Senator Katherine Laforge." Listeners and local residents are invited to stop by Sertinos for a cup of coffee and lend their voice to the show. Questions and opinions are welcomed. One of Sertinos' mission statements is to foster warmth and human interaction. Their live KSET show certainly attempts to uphold that tradition.
Tom Clay's radio career started in Liberal, Kansas on KSCB. Liberal is famed as the home to The Land of Oz From The Wizard Of Oz exhibit. David Hearne also had a Liberal, Kansas connection. On October 12th 2009, Joe Denoyer, Liberal, Kansas's Mayor interviewed David Hearne on the same station, 1270 KSCB about his book Hulagu's Web – The Presidential Pursuit of Senator Katherine Laforge.
Since his beginning on KSCB, Tom Clay has led a long and distinguished career with the radio industry. He has hosted numerous radio shows across America, including shows on WEEL in DC., KYSN from the mountains of Colorado and finally KSET in Beaumont, Texas.
David Hearne's novel, Hulagu's Web – The Presidential Pursuit of Senator Katherine Laforge tells a story about a Texas Senator that is targeted for assassination by numerous adversaries because she is seriously attempting to make changes to the political landscape. Some even feel she is a clear and present danger to the age-old bastion of men at the helm of the United States. Book reviewer Kristine Morris of ForewordMagazine.com described David Hearne's book, "Hulagu's Web-The Presidential Pursuit of Senator Katherine Laforge", as "a ripping good political thriller." She went on to say, "Under the guise of entertainment, Hearne investigates issues of importance, including the motivation behind Islamic terrorism, the corruption of American politics – including the buying of congress by oil interests, the attitude toward women in positions of power, and the deliberate bungling of efforts to move the country to green energy."
Author, David Hearne attempts to have his novels follow a tradition of using fiction as a tool for social critique, as a means of calling for social change and justice, and as a tool for social transformation. His interview will touch upon the way creative writers and literature in general can impact communities, and how literature can play a part in addressing pressing social issues.
Hearne states, "Each of us has within us a piece of the solution to society's problems, but nothing happens if we do not make our voice heard. I hope my novels create a small ripple in the direction of illuminating some of these social issues and provide clarity in the need to solve them."
A wikio.com article titled, "Could new talent in the book industry erase some of its gloom and doom?" sheds some light on Hearne's literary future. An excerpt from the article reads, "The undeniable fact that being a great writer today is no longer enough, you also have to be part publicist and an individual with iron will to succeed if you want readers to discover your work. Will these three books "Trouble Man: by Travis Hunter, If Thine Eye Be Evil by Kathleen Yasas and Hulagu's Web by David Hearne become best sellers? Well that depends on you the reader. What do you want to read, great books or so-so books? If you really want great books, then yes they certainly have a chance."
Hearne's politically controversial novel "Hulagu's Web – The Presidential Pursuit of Senator Katherine Laforge" is available through Amazon.com and other venues.
If you would like to schedule a radio, print or television interview or require further information, please contact Publicist Jim King (409-748-9689) or James Burns at (409-656-4625)
###