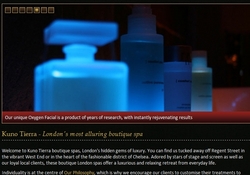 the best wax in town
London, UK (PRWEB) June 21, 2010
The summer is pretty much here now (finally!) and it's time to get into shape for the season and start looking your best. Fear not, for anyone stuck in London without so much as a grain of sand in sight can still get their beach bod on with Kuno Tierra's fantastic tanning and waxing treatments.
Found at the heart of London, nestled in its classy niche just off Regent Street, Kuno Tierra is truly the place to go. The spa itself can be found a very short walk away from either Oxford Circus or Piccadilly Circus tubes, and provides a fantastic break for anyone either working or shopping in the area - a calm and serene pocket of luxury within the centre of the bustling capital.
Kuno Tierra have got a wealth of different spa waxing treatments, all of which are undertaken with the spa's specialist wax that has been described by Stylebible as "the best wax in town". Indeed this wax is nearly entirely pain free - Marie Claire praised both its efficiency and gentleness, so customers can be guaranteed of luxury. Whatever the treatment Kuno Tierra offer the ultimate in comfortable surroundings and premium feel - all at very affordable prices.
Looking to ease that pastiness and get a bit of colour into one's skin before a holiday? Avoid the patchiness and falseness that come with tanning lotions and creams and instead turn to a proper tanning treatment. At Kuno Tierra customers can get simple and efficient tanning treatments, or if they're looking for the ultimate in tanning they can turn to the Ceremony of the Sun. This treatment imitates natural tanning like no other, avoiding dry skin and other issues associated with sun exposure - leaving clients looking vibrant and classy before they shed some clothes for the beach.
Not one for the beach? Kuno Tierra has plenty more on their plate to offer - massages, facials, pedicures and nail art amongst many other things - including the best luxury manicure london has to offer! There's even a wide range of amazing spa packages London (London spa packages) which gives customers the full sensory experience amidst a world of tranquillity and comfort that one simply won't find anywhere else.
Head to http://www.kunotierra.com to have a look through the fantastic range of treatments on offer at this luxurious Mayfair spa - there's sure to be something for everyone. The prices will no doubt be a very pleasant surprise!
All Kuno Tierra's staff are highly experienced and carefully selected to ensure every last customer gains the relaxation and results they require and request. Don't believe it? Head to the site's testimonials page to find the growing list of superlatives and recommendations for the spa.
# # #