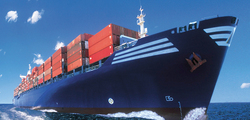 (PRWeb UK) June 19, 2010
ACS&T Logistics, the UK's leading frozen food logistics provider, has formed a new partnership with specialist global frozen logistics operator, Edge Worldwide Logistics (EWL), to offer a complete, end to end supply chain service. This new service has been designed to unlock savings throughout the entire supply chain for all those who source their frozen food products globally. It is the first of its type in the industry.
The new partnership will enable food businesses in the UK to have complete control and visibility throughout the supply chain, from overseas supplier to their own factory door. The service promises to benefit customers through cost savings at every step of the supply chain, increased visibility and enhanced information flow, and greatly improved operational efficiencies.
Carl Robinson, Sales & Commercial Director of ACS&T said:
"We are absolutely delighted to have formed this partnership with EWL, and believe that together, we have created a new service that will benefit every food business that imports product to this country. EWL's pricing structure on importing guarantees immediate savings, and when combined with our industry leading production support service, this is something that can offer improvements and savings to any supply chain."
Philip Edge, Director of Edge Worldwide Logistics followed up:
"EWL focuses on working in partnership with our clients to cut costs, reduce lead times and offer deep sea shipping expertise. Working with ACS&T, we are allowing our customers to take back control of their entire supply chain and offer them a complete service. It is a very worthy partnership for our two businesses, but more importantly, for our customers who will reap in the benefits."
Users of this new, joined up service will benefit immediately, saving an average on shipping costs of 15-20% per reefer container through EWL's full service logistics plan.
EWL handles all elements of shipping, taking care of paperwork, including customs and port health documents, as well as offering full track and trace services. With 120 partner offices across 30 countries, the services offered are unmatched, as the logistics provider uses global trade lanes and is one of the biggest reefer providers in Europe. Supply chains can start from as far as West Coast South America and the Far East.
Once stock arrives in the UK, ACS&T can then collect it from the port of arrival and take it to one of its 12 cold stores. If required, stock can be received under bond from ACS&T, who can also handle the administration of the customs process.
From here, goods are palletised and made instantly visible to the customer through ACS&T's leading edge real-time web-based Warehouse Management System (WMS). Orders can then be placed on that stock for distribution either into the customer's factory for processing, or directly to their customer base anywhere in the UK, from single pallets to a full load.
Customers can also benefit from ACS&T's groundbreaking production support system, which enables their raw materials to be stored and managed offsite, with consolidated deliveries of different stock direct to their factory door. This saves on administration, frees up storage space and helps to improve efficiency. It also releases cash flow and enables them to devote more time and factory space to manufacturing. Clients can choose to use the entire service, or 'cherry pick' the individual elements that suit their needs.
ACS&T operates from four centres in Grimsby, Wolverhampton, Tewkesbury and Scarborough. The company's extensive resources include 12 cold stores, 3 ambient stores, comprehensive co-packing facilities and large, dedicated and shared user multi-temp transport fleets.
Committed to delivering high quality service, and operates with integrity and a concern for the environment, ACS&T is accredited with the BRC Storage & Distribution certificate across all sites and temperature regimes in addition to the ISO9001 and 14001.
If you'd like to find out how ACS&T and EWL could save you money and improve your business performance, contact Carl Robinson on 01472 358207 or Philip Edge on 0161 874 3830.
###