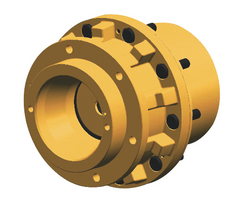 Auburn, Indiana (PRWEB) June 19, 2010
OEMs of mobile off-highway construction and agricultural equipment can achieve greater design freedom and flexibility with the new CD series of compact drives from Auburn Gear.
First on the scene in the series is Auburn's 70CD model that is the highest 'power density' final drive in the industry. It features maximum intermittent output torque of 70,000 lb-in. (7,910 Nm) and a broad range of ratios. Two other CD models with higher output torque and dynamic load capacities are scheduled for release in the coming months.
The new 70 accepts Sauer LC/KC frame cartridge motor inputs, has a standard disconnect for towing, offers an optional integrated parking brake and can be painted to customer specification to match the OEM's brand color.
Typical applications for the 70CD compact drive include self propelled ag equipment, such as mowers, sprayers and harvesters. Others include construction equipment, such as aerial work platforms, road pavers, rollers and compactors. In addition, the 70CD compact drive is ideal for specialty mining and forestry machines, and other track and wheel drive vehicles.
Auburn Gear, Inc., was organized in 1982. Formerly a division of a major U.S. manufacturer, however, Auburn has almost 60 years of gear manufacturing experience. In addition to producing a wide range of final drive systems on the Power Wheel® side of its business, Auburn Gear also maintains an automotive aftermarket division that engineers and builds differentials, lockers and spools for high-performance cars and trucks, and off-road sport utility vehicles.
For more information, contact Auburn Gear, Power Wheel Division, 400 East Auburn Drive, Auburn, Indiana 46706, 260.925.3200, http://www.auburngear.com/
# # #