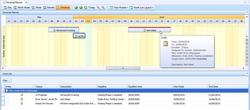 With more complexity in IT projects and a need to respond faster to changing markets, development teams have had to adapt the way they work, requiring processes and technology to support the dynamic nature of their businesses. The absence of a holistic solution for ensuring quality when managing the Software Development Life Cycle has been a bone of contention with the customers we speak with
(PRWeb UK) June 19, 2010
Original Software, the Application Quality Management (AQM) vendor, today announced the launch of Qualify, a brand new addition to its solution suite. Designed from the ground up to answer the growing need for QA to be less siloed, Qualify has brought effective Quality Management right into the heart of the software delivery process. This launch comes off the back of a new survey* which highlighted discontent in the market, with 84% of users stating that current products do not meet their functional requirements.
Built with the purpose of directly answering these needs, Qualify unites all aspects of the software development lifecycle from requirements through to release. It is also fully integrated with Original Software's manual and automated test execution solutions for the user interface and database layers. Qualify encompasses requirements, planning, scheduling, resource management, test execution, defect management and reporting in one platform, ensuring collaboration and communication throughout. The methodology agnostic, entirely code free Quality Management solution, even comes complete with a smart phone interface, allowing instant access to cross-project information from just about anywhere.
"With more complexity in IT projects and a need to respond faster to changing markets, development teams have had to adapt the way they work, requiring processes and technology to support the dynamic nature of their businesses. The absence of a holistic solution for ensuring quality when managing the Software Development Life Cycle has been a bone of contention with the customers we speak with," said Colin Armitage, CEO of Original Software.
The recent market survey* highlighted the divide that has been growing between available market solutions and business needs, uncovering an incredible discontent with current Quality Management products, with 84% of users claiming that their solutions were not meeting their needs. Of these the highest rated issues were; 38% wanted to map different processes and methodologies into their system; 37% suffered from a lack of cross-project information and wanted a unified view of all projects currently underway; 36% thought their solution should allow better communication and collaboration and 34% thought their systems were not user-friendly enough.
"Products such as HP Quality Centre are too rigid and have a siloed approach, limited to test management. Research shows that such an approach is incapable of addressing current needs. Collaboration needs to happen not just within the QA team, but among the entire project team as well," continued Colin.
A report about Qualify from independent analyst group Ovum, noted "Organisations gain a centralised view of all their quality processes and tasks from project inception through to release. The product is also configurable to a great extent enabling organisations to fit the solution to their processes and workflow. Qualify supports a range of development methodologies including Agile, waterfall, and hybrid processes as well."
Qualify's powerful yet simple workflow means that users don't have to be straight-jacketed into a particular way of working. There are options to select one of the pre-existing templates based on popular methodologies or build their own models quickly and easily. And more importantly, there is no need to choose just one. They can run multiple projects each using different methodologies, something that, the survey proved, is becoming more commonplace in today's market, with 72% stating that their development departments were using combined methodologies.
One fantastic benefit of Qualify is the ability to view cross-project information and have a single view of team capacity and work schedules. "With a test team of eight at Target, we will have at least five projects on the go at any one time, with test cycles varying from 20 to 120 days. To be able to manage that activity, view workloads and work out capacities, it is essential to have a single view of what is going on" said customer Ala'a Shouaib at Target Group Plc.
A breeze to implement, Qualify has won the hearts of Original Software's customer base and is now generally available. More information about the solution can be found at:
http://www.origsoft.com/qualify
*] The independent study was conducted by emedia in March 2010. More information can be found at: http://www.origsoft.com/products/qualify/docs/aqm_survey_results.pdf
About Original Software: http://www.origsoft.com
With a world class record of innovation, Original Software offers a solution focused completely on the goal of effective quality management. By embracing the full spectrum of Application Quality Management across a wide range of applications and environments, the company partners with customers and helps make quality a business imperative. Solutions include a quality management platform, manual testing, full test automation and test data management, all delivered with the control of business risk, cost, time and resources in mind.
More than 400 organisations operating in over 30 countries use Original Software solutions. Current users range from major multi-nationals to small software development shops, encompassing a wide range of industries, sectors and sizes. We are proud of our partnerships with the likes of Coca-Cola, Cargill, HSBC, FedEx, Pfizer, DHL and many others.
###