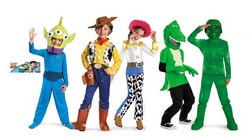 The new Toy Story 3 costumes combined with the original time-tested best sellers will guarantee increased sales in our Toy Story category this Halloween," says Joe Buzzelli, Merchandising Manager.
Edison, NJ (PRWEB) June 21, 2010
Costume Discounters is excited about the arrival of their 2010 line of Toy Story 3 costumes. Toy Story has been a popular Disney franchise since 1995 and the Toy Story Halloween costumes, namely Woody, Buzz Lightyear, Jesse and Mr. Potato Head have been best sellers for 15 years.
Costume Discounters will have updated costumes for the primary characters as well as brand new character costumes previously unavailable on their website. The new additions to the Toy Story costume line for 2010 are Rex, The Green Army Man and the Squeeze Toy Aliens. In addition fringe characters Ken, Barbie and Bo Peep are also part of the Toy Story Costume line at Costume Discounters.com "The new 3D movie will bring Toy Story 3 costumes to the forefront this Halloween. The newly available character costumes combined with the time-tested best sellers will guarantee increased sales in our Toy Story category," says Joe Buzzelli, Merchandising Manager.
Costume Discounters offers the Toy Story 3 costumes as well as all costumes with a Low Price Guarantee. If a competitor carries the identical costume for less, Costume Discounters will match their price then take off an additional 20%. Toy Story 3 costumes are available for infants through adults and start at $19.97.
About Costume Discounters.com
Steve Mandell, founder of Party City, started Costume Discounters.com so online shoppers could have access to the best Halloween costumes at the lowest prices. Costume Discounters prides itself on having such low prices that they back it up with a Price Match Guarantee, beating any lower price for the same item by 20%. This concept, plus a user friendly website that offers one-stop shopping for the whole family has been a recipe for success.
Costume Discounters is also the only online Halloween costumes retailer to offer a Free Size and Exchange Policy. If a costume does not fit, is damaged or the customer decides they would rather have a different one, the shipping is free for the exchange as well as the replacement costume. Customers can order a replacement, print a shipping label and return the item without leaving the comfort of their home.
The online store features thousands of different costumes and accessories for people of all ages and pets too. CostumeDiscounters.com also has one of the largest selections of hats, wigs, masks, accessories and make-up available on the web.
# # #