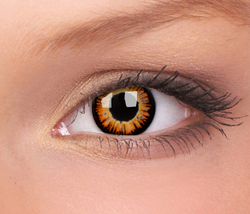 2010 has seen a massive 500% rise in our costume contact lenses compared to last year.
(PRWEB) June 18, 2010
With the Glastonbury festival open to campers just two days after the Summer Solstice, many wilderness loving, druid dressing, flower power hippies and other colourful sorts in costumes and coloured contact lenses will be heading down to the Somerset area in the U.K to enjoy the festivities. The massive difference this year is the huge colour contact lenses craze which has taken storm and now dominates the latest fashion trends everywhere. The success of the Twilight series, Avatar and Alice in Wonderland means that people can dress up as their favourite characters and make huge impacts effortlessly.
We asked Mark Evans the Director of successful Fashion Contact Lenses retailer YouKnowIt.com how he intends to celebrate the Summer Solstice "The whole team loves this time of year, every Summer Solstice we make a point of celebrating, this year we're heading down to Stonehenge dressed as druids to worship the sun god in style. Sales for our Eclipse Contact Lenses, Solar Blue Lenses and Twilight Contact Lenses have been particularly impressive this year, so we're be wearing these cosmic designs of contact lenses in celebration".
Mark continues to say "The atmosphere is what brings most people to the historic monument of Stonehenge, it's a beauty spot of Salisbury, the perfect place to watch the sunrise at around 4.45am. We've worked consistently hard to update and push forward our range ahead of competition and pride ourselves on the choice available to our customers with everything from Anime, Fantasy and Movie contact lenses to animal inspired wild eyes. I'd recommend anybody attending the Summer Solstice or Glastonbury festival this year to check out the Blue Star Contact Lenses, http://www.youknowit.com/online-shop/blue-flower-crazy-contact-lenses-pair.cfm [Flower Contact Lenses , Luna Eclipse Contacts and the raver's favourite UV Glow Contact Lens which are always great at social events. Then you can chill out with some beers and watch the World Cup 2010 looking like a fan that means business with country flag contact lenses.
The astronomical Summer Solstice marks the celestial event of the longest day and shortest night of the year which over in our Northern Hemisphere is celebrated from the evening of the 20th to the morning of the 21st June, the Southern Hemisphere enjoys the same magic in December. With the 2010 Summer Solstice almost upon us, the days have been gradually lengthening, with the sun rising higher in the sky, on Sunday however the sun will appear to 'stand still in the sky'. You can access the famous Stonehenge stone circle from 8.30pm Sunday until 8am on the Monday, allowing you to enjoy the lively entertainment from samba bands and drummers amongst other fun and exciting sites, you might even spot a druid or Cheshire cat on your travels.
For Further Information Contact:
Clare Carvalho
0845 4300 317
Merchant Venture Ltd
###