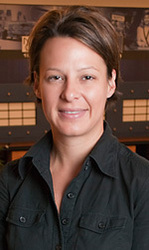 Ft. Lauderdale, FL (PRWEB) June 17, 2010
Travis Berger, Digital Sales Manager for WPTV News Channel 5, has been named President of the South Florida Interactive Marketing Association (SFIMA) for the 2010-2011 year.
SFIMA is a forum for interactive professionals, businesses and educators who are dedicated to the exchange of ideas, information, and best practices. Service on the SFIMA Board of Directors provides an opportunity to promote and advance interactive marketing education, best practices and networking for South Florida's leading interactive marketing executives and vendors.
Travis Berger is a recognized digital expert in online marketing with 6 years of online and digital experience. Currently, she is the Digital Sales Manager for WPTV News Channel 5 the NBC Affiliate News Station in West Palm Beach. Utilizing her digital background Travis leads the digital sales efforts at http://www.wptv.com using a holistic marketing approach coupled with TV, online, and mobile. Travis and her team effectively create online marketing strategies and campaigns for both local and national advertisers.
"Travis Berger is the perfect President to take SFIMA to the next level as a preeminent national organization as well as the most prestigious local professional association for digital marketers. Her energy and enthusiasm are the things that will inspire an entirely volunteer based organization to new heights" said Sheryl Cattell, 2003 founder of SFIMA.
In addition to her work at WPTV News Channel 5, Travis owned her own Digital Agency for 2 years working with both local and national clients such as Nest Fragrances, Continental Property Management, Tedesco Lawn Care and University of Miami to name a few. Travis was the 2009-2010 Term Vice President of SFIMA and long-time Board Member.
"I am thrilled to continue the great tradition of SFIMA and help grow the organization with the help of strong momentum carried through from Taigh White's ground breaking term. This year promises outstanding educational, revamped and reloaded networking events. Having been a part of this organization for 4 years, I have seen the wonderful opportunities SFIMA presents its members, board members and guests. In 2010-2011 I will continue that legacy and add passion, excitement, and energy. Look for tremendous programming and new networking opportunities in this coming year. SFIMA has honored me with the position of Chairperson and I am excited to bring a new perspective to board as well as our members" said Travis.
SFIMA was founded in 2003 and is one of 12 Interactive Marketing Associations in the US. It is a non-profit forum dedicated to the exchange of ideas, information and best practices to help members grow their interactive marketing activities and successes. The organization is the primary interactive marketing voice in South Florida. For more information, visit http://www.sfima.com.
###