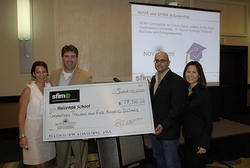 Ft. Lauderdale, FL (PRWEB) June 18, 2010
South Florida Interactive Marketing Association (SFIMA) announced its new SFIMA Future Digital Leaders Scholarship Fund for Nova Southeastern University - H. Wayne Huizenga School of Business and Entrepreneurship. The $17,500 scholarship, to be distributed over a 5-year period will be awarded to a high-potential Graduate students enrolled in an M.B.A. program that is focused in a career in the Marketing field.
SFIMA's goal is to create future leaders in the Digital Marketing industry in the South Florida area. The scholarship program will not only facilitate monetary assistance for Nova Southeastern H. Wayne Huizenga School of Business and Entrepreneurship students, but create an environment of mentorship and networking opportunities.
"The generosity SFIMA has shown us is unprecedented, and we're excited to partner with an organization that is so dedicated to the community." said Jade Chen, Director of Development for NOVA Southeastern University. "SFIMA is leading the way to make South Florida a national marketing center, and we're thrilled to provide our students with this incredible exposure to the interactive industry."
SFIMA has a long-standing history of service and education to the South Florida community, and this fund will support those who exhibit the same commitment and drive.
"There are so many synergies between SFIMA and Nova, and we're excited to provide Nova's students with opportunities to get involved with South Florida's interactive community," said Travis Berger, President of SFIMA. "One of SFIMA's primary objectives is to grow and support the future leaders of South Florida's interactive marketing industry, and this partnership with Nova will help achieve that goal."
Founded in 2003, The South Florida Interactive Marketing Association (SFIMA) is a non-profit forum for interactive professionals, businesses and educators. SFIMA is dedicated to the exchange of ideas, information and best practices, as exemplified by case studies and industry leaders that will help members grow their interactive marketing activities and successes. SFIMA's goal is to be the primary interactive voice in South Florida providing lifelong learning, networking and community outreach opportunities. For more information, visit http://www.sfima.com.
###