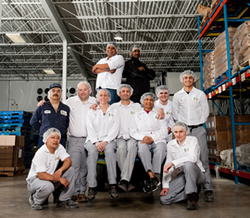 Today, no casual dining menu is complete without wraps and tortilla recipes
Mississauga, ON (PRWEB) June 19, 2010
In its 17 year history, Sonora Foods has witnessed the evolution of flour tortillas and flavoured wraps from being specialized food items normally seen only in ethnic Mexican restaurants, to their current status of mainstream food found in almost every casual dining and quick serve establishment across Canada.
"Today, no casual dining menu is complete without wraps and tortilla recipes" says Juan Soissa, co-founder of Sonora Foods. "They're a very handy, flexible option that allows restaurants to better manage their food costs while providing tasty, healthy choices to their customers." In fact, Sonora Foods tortillas are now found in the majority of family and casual dining restaurants and burrito concept quick serve restaurants across Canada.
To better support this growing industry, Sonora Foods has taken all its experience importing and selling tortilla products to the Canadian foodservice industry and started to manufacture their flour tortillas and flavoured wraps locally. "We used to import all our flour tortillas from the United States," says Juan, "but we knew that in order to adequately support our customers in their growth and to provide them with a fantastic choice of products we would have to manufacture tortillas right here in Canada."
The initiative was run with Sonora's full commitment to create the best that Canada could offer. The new production team was comprised of top Canadian professionals in the areas of plant and production management, maintenance, food safety and quality, and sanitation. The result is a state of the art, HACCP capable facility that now produces Sonora Foods' entire line of excellent flour tortillas and flavoured wraps.
"We couldn't be more proud of the team and what they have accomplished," says Juan, "but this is just the first step. There are many exciting things coming from Sonora Foods in the next few years."
About Sonora Foods Ltd:
Founded in 1993, Sonora Foods has become a leading supplier and wholesaler of fine Mexican and Southwest food staples to the Canadian foodservice industry. Sonora Foods offers regular and specially customized corn and flour tortillas, wraps, frying corn chips, ready-serve corn chips, and taco shells. They also stock an extensive selection of dried and canned specialties including peppers, seasonings, sauces and salsas. To find out more visit http://www.sonorafoods.com.
# # #