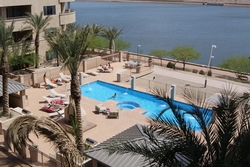 Rental rates should follow the decline in housing prices.
Paradise Valley, AZ (PRWEB) June 17, 2010
As prices have plummeted in Tempe, real estate developers have recently begun dumping their unsold apartments below construction prices. At the most recent Tempe condo auction, the developer of the waterfront Northshore Condos on Tempe Town Lake sold 20 brand new, never lived-in flats, for less than half the price of just 12 months ago.
Tempe Flats, a local property management company, purchased several of these luxury condos and is now making them available for rent to ASU students at a fraction of the price of identical units in the same building.
Since opening in 2006, the Northshore Condo Development has been one of the most desirable places for ASU students to live. Until recently, few students could afford the sky-high rental rates to have such an upscale home so close to campus.
Tempe Flats aims to change that starting this summer, offering its new condos at discounts up to 40% off the going rental rates in the building.
"We don't think ASU students should pay rents based on the landlord's 2006 price estimates," says Tempe Flats owner David Petersen. "Rental rates should follow the decline in housing prices."
# # #