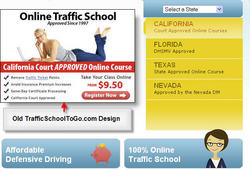 Orlando, FL (PRWEB) June 29, 2010
Traffic School To Go has been a DMV-approved online California traffic school provider since 1997, and is now going national. Authorized states being added to the new design include Florida, Texas and Nevada, with New York, Virginia, Arizona and other states soon to follow.
Most motorists use traffic school to dismiss traffic ticket points accrued from a recent traffic violation, keep their driving privileges, or to get an auto insurance discount. Overall, drivers are looking to keep insurance premiums from rising as a result of a traffic violation.
The recent redesign, now available at TrafficSchoolToGo.com, is part of the American Safety Council's effort to offer traffic school and defensive driving benefits across the nation. Currently, ASC is securing approval from other states to offer online traffic school courses to a wider audience. ASC began offering Florida traffic school in the classroom, and has since expanded its curriculum to include 100% online basic, intermediate and advanced driver improvement courses.
"Florida traffic school is the most searched online traffic school in the country. California is not far behind." said Bob Proechel, president of the American Safety Council. "Millions of people are now looking to meet their traffic ticket dismissal requirement online."
The new TrafficSchoolToGo.com will explain each state and its requirements, giving the differences between states and what some may refer to as traffic school, defensive driving or driver improvement. The effort to go national is designed to make the process of dismissing a ticket easier and focus more on the user getting the information they need to select the right traffic school.
"Our research indicates a majority of people don't realize traffic school laws vary by state." said Tom Page, CEO of the American Safety Council. "We hope to educate motorists as to what their options are and lead them in the right direction."
For more information about American Safety Council traffic school or defensive driving courses, visit TrafficSchoolToGo.com or AmericanSafetyCouncil.com. ASC and its affiliated organizations offer online traffic school and workplace safety training, governmental services and professional continuing education programs, in association with state and federal regulatory agencies and court systems. For additional information, please contact the American Safety Council at 1-800-292-5080.
###