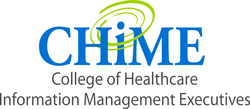 It is an absolute honor to receive this recognition from my peers and CHIME
Ann Arbor, MI (Vocus) June 18, 2010
The College of Healthcare Information Management Executives (CHIME) is pleased to announce that Russell P. Branzell, Vice President-IS & Chief Information Officer at Poudre Valley Health System in Fort Collins, CO, is the recipient of the organization's second annual State Advocacy Award.
Branzell is being recognized for his commitment to the growth and success of state-wide initiatives to bring together stakeholders across Colorado to further the advancement of health information technology.
"It is an absolute honor to receive this recognition from my peers and CHIME," Branzell said. "I must give the recognition to the incredible group of Colorado CIOs that I have the privilege to work with as we try to lead, direct, and facilitate healthcare IT enabled change."
Branzell organized and led the development of C4, the Colorado CIO Collaborative Committee, a group organized for senior leaders in HIT to work collectively on significant and urgent issues within their state. Additionally, he brought together elements of the Colorado Telehealth Network (CTN), Colorado Hospital Association and Colorado Regional Health Information Organization (CORHIO) in an effort to build a stronger union of CIOs in the state of Colorado.
Branzell also championed the launch of CHIME's StateNet, an online CIO network intended to enhance communication among healthcare CIOs on important state matters related to the HITECH Act.
"I am blessed to work with the great CIO leaders across all 50 states represented by StateNet," he said. "Now is the time for CIOs across regions, states and nationally to meet the incredible challenges head on."
As Chair of StateNet, Branzell has helped stimulate growth and activity on the network as well as facilitated future collaborative efforts with the Office of the National Coordinator for Health Information Technology (ONC).
"Russ' efforts to galvanize his colleagues and his vision of CIOs as key touch points for state-level HITECH implementation have made all the difference in launching StateNet earlier this year," said CHIME Sr. Director of Advocacy Sharon Canner.
The CHIME State Advocacy Award was created to honor a member for their demonstrated leadership at the state level in educating policy makers on the value of HIT towards improved patient care. Branzell represents one of CHIME's many dedicated members who have helped the industry by influencing governmental policy and energizing colleagues to follow suit.
"Russ has been visionary and tireless in organizing our Colorado state coalition of CIOs and IT leaders from across healthcare – not just CHIME members, but other IT leaders from provider, payer, and public health organizations," said member Mary Anne Leach, Vice President and CIO at The Children's Hospital in Aurora, CO. "Russ's efforts have helped create and build a stronger union of CIOs in the state of Colorado as we collectively drive toward the ONC objectives of improved clinical outcomes and reduced healthcare costs, for the citizens we serve."
Leach accepted the award on Branzell's behalf at a ceremony during National Health Information Technology week in Washington, D.C. yesterday evening.
"Russ has made a major impact on CHIME's growth and success over the years, including service as a Board member overseeing education, as a CIO Boot Camp faculty member, and as Chair of the CHIME Education Foundation" said CHIME President and CEO Rich Correll. "He is always ready to volunteer for more work, and will always give 1000% effort to his leadership. His list of accomplishments now includes his leading role in the state of Colorado where he has mobilized a statewide task force of his fellow CIOs to harness their collective efforts to achieve major progress. Their positive achievements are serving to inspire CHIME's other state CIO groups to tackle their tough challenges. I'm so glad we can honor Russ for his leadership in Colorado. He truly deserves it."
About CHIME
The College of Healthcare Information Management Executives (CHIME) is an executive organization dedicated to serving chief information officers and other senior healthcare IT leaders. With more than 1,400 CIO members and over 70 healthcare IT vendors and professional services firms, CHIME provides a highly interactive, trusted environment enabling senior professional and industry leaders to collaborate; exchange best practices; address professional development needs; and advocate the effective use of information management to improve the health and healthcare in the communities they serve. For more information, please visit http://www.cio-chime.org.
# # #